To conserve power and reduce your electrical bill, you should shut down your computer or put it to sleep when not in use. But that's easier said than done if your Mac acts as a server for files, photos, music, or other resources.
Snow Leopard offers at least one solution to this problem: Wake on Demand. This is Apple's name for a new networking feature that lets a Snow Leopard Mac go to sleep while a networked base station continues to broadcast Bonjour messages about the services the sleeping computer offers. The base station essentially acts as a proxy for the slumbering Mac. Advertised Bonjour services includes file sharing, screen sharing, iTunes library sharing, and printer sharing among others.
When another computer on the network wants to use one of those Bonjour services, the base station sends a special signal over Ethernet or Wi-Fi to wake the computer in question, which then rouses itself and responds. Snow Leopard's improved speed in waking from sleep helps.
To other computers, the sleeping Mac's shared services appear as regular Bonjour entries requiring no additional software. A Panther, Tiger, or Leopard system or Windows system with Bonjour installed can wake a Snow Leopard Mac. An awakened Mac goes back to sleep according to Energy Saver settings when it returns to an idle status.
What you'll need
Wake on Demand is a useful feature for Mac users who share resources between multiple machines, but it comes with some notable provisos. The first is the type of equipment you'll need.
Apple says you must have an AirPort Extreme Base Station (2007 or more recent model) or Time Capsule (2008 or more recent model) with the current 7.4.2 firmware installed.
Support for Wi-Fi comes with additional limitations. For starters, it appears only a relatively new Mac can be woken via a Wi-Fi connection. Older Mac models can be woken only when connected to the base station via Ethernet. (At this writing, Apple hasn't released a list of models that work over Wi-Fi, but, in testing with colleagues, I found only 2009 models offered the option. After this article was originally published, a reader tested his 2008 MacBook Pro [2.6 GHz Core 2 Duo], and found it capable as well. You can report other pre-2009 models in the comments.)
You can check whether your system supports Wake on Demand via Wi-Fi by opening System Profiler (go to Apple menu -> About This Mac, and click on More Info). In the Contents list at left, select AirPort (in the Network section). In the area under Interfaces, look for the text "Wake on Wireless: Supported." If it's not there, the option isn't available on that Mac.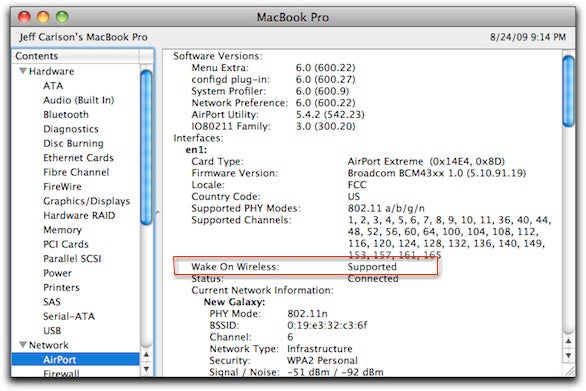 There's a further limitation with Wi-Fi: if you've enabled WPA or WPA2 encryption on the base station to which your Mac is associated, that base station must act as the main base station on the network; it can't be configured as a bridge, Apple says. If you're not sure whether your base station is bridging network traffic, go to Applications -> Utilities -> AirPort Utility, connect to your base station, click on Manual Setup, and choose the Internet icon. If Connection Sharing is set to Off (Bridge Mode), then wake over wireless won't work. (The most likely reason you'd have your base station acting only as a bridge is if your broadband modem is already providing network addresses via DHCP.)
Getting started
You enable Wake on Demand in the Energy Saver preference pane. On desktop machines, Snow Leopard shows a single pane; on laptops, the option is available in the Power Adapter tab. Laptops can't use this feature when powered by a battery. Additionally, laptops must either be open (not latched) or have an external display attached to be woken through this method.
For computers that can connect over either Wi-Fi or Ethernet, the checkbox is labeled Wake For Network Access. In my tests, this option was turned on by default in updated and new Snow Leopard Macs. Apple notes in a support document that some machines may have this option turned off after upgrading to Snow Leopard, in which case you'll need to turn it yourself.
In the case in which a computer has only the Ethernet option, the label reads Wake For Ethernet Network Access, but the option functions the same way; and if you have a MacBook Air, the option reads Wake for AirPort Network Access.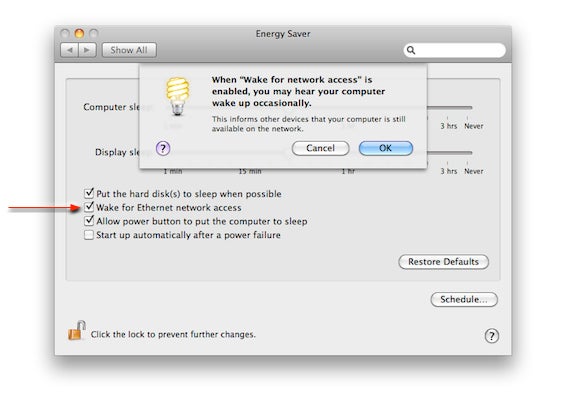 Apple warns in its support note that your apparently somnolent computer may wake for just a moment to check in with the base station that's proxying Bonjour without activating its display, and then quickly go back to sleep.
You can disable Wake on Demand by unchecking the box. With the option turned off, your sleeping Mac will have its beauty sleep undisturbed and your base station won't advertise the Mac's Bonjour services.
How it works
In Leopard and earlier releases of Mac OS X, Apple offered a similarly labeled wake-on-Ethernet option that relied on the Magic Packet, a specially formulated data transmission that Ethernet adapters can be set to listen for in order to wake a computer in a standby mode. The Magic Packet option is a common feature in Ethernet cards and operating systems.
The flaw with the Magic Packet approach is that you had to use a special piece of software to wake a computer over Ethernet, and it didn't work over Wi-Fi. By switching to a Bonjour-triggered, base station-hosted method—which Apple calls Bonjour Sleep Proxy—Apple gives the feature broader reach. (Earlier this year, Macworld editor Dan Frakes reviewed a free program, WakeOnLan ( ), that handles the network voodoo for Magic Packets. In addition to Apple's new Wake on Demand option, I've confirmed that WakeOnLan still works with Snow Leopard systems connected over Ethernet.)
The technology behind waking a computer over Wi-Fi is more complicated. Wi-Fi radios typically shut down when a computer isn't active; however, some Wi-Fi-enabled devices employ a standby scanning mode that wakes a radio for extremely brief periods of time to scan for incoming traffic. This mode typically takes advantage of WMM Power Save, a standard designed to reduce power usage by Wi-fi-capable cellular handsets and portable devices while they're not transmitting.
It's possible that Apple using technology similar to WMM Power Save to give a Mac's Wi-Fi adapter just enough power to monitor for the right kind of alert, and wake the system. (After this article was originally published, Apple said via e-mail that it is not using WMM Power Save, but provided no additional details.)
If Apple has taken an open approach to waking a Mac over Wi-Fi—that includes the use of Bonjour which Apple invented but doesn't restrict the use of—it's good news for Mac users. In the coming weeks we may see programs developed that allow other software, servers, or routers to wake the slumbering Snow Leopard.
[Glenn Fleishman is the author of Take Control of Your 802.11n AirPort Network ( www.takecontrolbooks.com ), and a regular Macworld contributor.]
[Updated August 28th, 2009 at 2:36 PM to reflect newly released details about Wake on Demand and correspondence from Apple.]