At a Glance
Expert's Rating
Pros
External microphone input
Image stabilization
Five shooting modes
Removable storage and battery
Cons
Terrible zoom
Noisy microphone input
Low framerate from 1080p video
Image stabilization doesn't help much
Our Verdict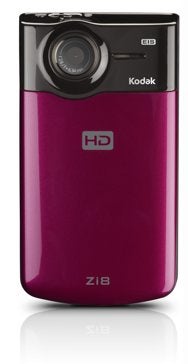 Browse through the many pocket camcorder reviews we've published and you learn that these camcorders are limited in significant ways—no image stabilization, no exposure or white balance controls, no optical zoom, no support for using external microphones, and no support for 1080p high-definition video. Kodak hasn't addressed all these limitations with the Zi8, but it does take a shot at some of the most significant—specifically, image stabilization, 1080p shooting, and support for external microphones. Regrettably, none works in stellar fashion or makes up for a camera that's a fairly average performer.
The specs
The Zi8 offers five shooting modes: 1080p (1920 by 1080), 720p (1280 by 720) at 60 frame per second, 720p at 30 fps, WVGA (848 by 480), and still photos (5.3 megapixels at a 16:9 aspect ratio). Video is captured in H.264 format and audio is recorded at 48kHz. Like Kodak's Zi6 ( ) and Zx1 ( ), the Zi8 stores records files on an SD card (not included).
The Zi8 offers two focus modes, normal and macro. The camcorder includes a 6.3mm f/2.8 fixed focus lens with a 35mm equivalence of 61mm for 1080p, 46mm for 720p and WVGA, and 42mm for stills. The Zi8 has 4x digital zoom.
The internal microphone records in mono but the microphone jack allows you to record with a stereo external microphone. As with all of today's pocket camcorders, the Zi8 has a 1/4-inch tripod mount on the bottom of the camera. You can connect the Zi8 to a television via HDMI or composite connections (cables for both are included). And the Zi8 has a 2.5 inch (diagonal) LCD.
Unlike other Kodak pocket camcorders, the Zi8 uses a proprietary rechargeable removable Li-ion battery (the other cameras use AA batteries). You can charge this battery within the camera using the included charger or by plugging the camera into a powered USB port via the USB male connector that pulls out from the side of the camera. Kodak claims you can shoot 720p 30fps video for up to 90 minutes on a single charge.
Similar to the the other Kodak pocket camcorders, the Zi8 features a red four-position toggle switch on the back that you push to initiate record or playback and toggle to zoom in or out, select a shooting mode, and choose a clip to play. Also on the back of the camera you'll find buttons for switching between Record and Play modes, deleting clips, and accessing the camera's settings.
Performance
Versatile though this camera is, the proof is in the shooting and the Zi8 has some problems. Most importantly, the camera's 1080p video is not very good. In this mode you typically get framerates around 20 fps, which makes for video that's jumpy rather than smooth. The Zi8's 1080p video is also pretty grainy when viewed at full size, particularly with video shot indoors under low light.
Also, when shooting 1080p video, you have a 35mm equivalent of a 61mm lens. This means that if you get within about 4 feet of your subject, that subject is going to completely fill the frame (and then some). You can back up, but then the audio sounds "boxier" or noisier because the microphone picks up more of what's around it—the sound of voices bounced off walls in a room, or street noise. Try to shoot at arm's length from your subject (and that subject could be you pointing the camera at yourself) and the video is blurry. The Macro setting is no help here because it focuses only on objects that are really close to the lens. These two issues make shooting at 1080p largely undesirable, which is too bad given this is one of the camera's premiere features.
Shoot at 720p at 60 fps and you get much smoother video, but the frame rate doesn't alway reach that 60 fps peak. 720p at 30 fps delivers more reliable frame rates. And, at 720p, you can get closer to your subject without blur. But even in these shooting modes, the Zi8 has some difficulties. Overall, this pocket camcorder takes longer than others I've used to adjust to radical changes in lighting conditions—moving from shadow to light and back again, for example. When comparing the Zi8 to the Flip UltraHD ( ), the Flip camera adjusted a good half second before the Zi8. And the Zi8's 4x digital zoom stutters so badly that it's useful only for first zooming in on a subject and then pressing Record. You wouldn't want to shoot and then zoom in unless you wanted an intentional stutter effect.
I was thrilled to see an Audio Input jack on this camera as the built-in microphones on pocket camcorders often produce tinny sound. Unfortunately, the normal gain setting was too quiet with the wired lavaliere microphone I normally use with my full-sized camcorder. I was able to adjust the gain in the Zi8's settings area, but although it boosted the gain, it also boosted the noise that seems to be inherent in the camera's audio jack. Given that my lavaliere microphone is quiet with other camcorders I've used, I have to conclude that the camera's audio input is noisy.
It's nice to see image stabilization brought to a pocket camcorder—even if it's digital stabilization rather than optical—but, if you'll excuse the pun, the feature is no great shakes on this camera. I didn't notice a great deal less movement when switching on the feature.
All pocket camcorders have their weaknesses with exposure and color. The Zi8 is no exception. Like a lot of other pocket camcorders, the Zi8 blows out bright yellows—sunflowers, for example—under direct sunlight. Its video is less saturated and a little less detailed than that produced by the Flip UltraHD. Indoors, its video can be a little blue under natural light and favor yellow under indoor lights, but overall it does a reasonable job indoors.
Macworld's buying advice
Despite the number of problems cited in this review, the Zi8 isn't a terrible pocket camcorder. It's just that in the areas where it differentiates itself from other cameras in this class—1080p video, external audio input, and image stabilization—it doesn't perform well. Though it doesn't shoot 1080p video, allow you to swap batteries, or let you expand storage via an SD card, the Flip UltraHD remains the best all-around pocket camcorder I've used.
[Christopher Breen is a senior editor for Macworld.]