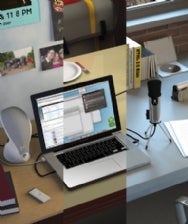 Buying a Mac isn't an inexpensive proposition. For the most part, it's a price Mac users are willing to bear for a sleek, well-designed, powerful system that's relatively free of viruses and other Windows annoyances. But just because you can afford a Mac doesn't mean you've got money burning a hole in your pocket. Luckily for you, there's a bounty of great low-cost Mac software waiting to be plucked.
But can you build an entire system out of these bargain finds and the software that comes with your system? To find out, we challenged four devoted Mac users to create a fully loaded and functional Mac setup for a student, a telecommuter, a photographer, and a multimedia blogger. Their budget? $300. We'll be sharing the results of their efforts over the course of this week.
These budget-conscious shopping sprees show that you don't have to spend a lot to outfit your Mac. Whether your own bank account is flush with cash or you're living on PB&J, you can take away plenty of tips for stocking up your own Mac.
The rules
For our $300 challenge, we assumed that each person already had an Intel Mac running OS X 10.5, an Internet connection, and a copy of iLife (which ships with every new system). For the photographer and the blogger, we also assumed they already had a digital camera or camcorder (if you don't have one, we recommend some good inexpensive options). Challengers were allowed to shop anywhere online for their software and hardware to find the best deals. The shopping sprees took place at the end of May 2009.
Illustration by Jeff Grunewald