At a Glance
Expert's Rating
Pros
Can stream from online Kodak EasyShare and Flickr accounts (Mac firmware update required)
Very good image quality
Includes Wi-Fi
Cons
May not play some video files
No support for HD video files despite 16:9 aspect ratio
Touch border can be awkward to navigate
Our Verdict
Kodak's W1020 digital photo frame stands out thanks to its image quality. The 10-inch frame, which displays at a 16:9 ratio, produced very good color accuracy in our tests. In addition, it retained a commendable amount of detail across highlights, midtones, and shadows when compared with our original photo files.
The W1020 has Wi-Fi support and can stream content from your online Kodak EasyShare Gallery and Flickr accounts. Mac users, however, will need to download and install a firmware update before using the streaming features (Kodak's Web site has instructions on how to install the firmware update). The hardest part of setting up Wi-Fi is entering your network key using the remote or a touchscreen. Doing so can be a challenge, but you only need to do it once.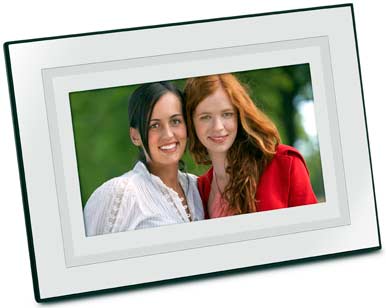 Kodak uses its Quick Touch Border technology with the frame, which is a set of embedded buttons along the outside of the LCD screen. Navigating the buttons and the frame's menus takes some patience, though, between user misfire on the touch panel and Kodak's rather clunky, nested menu system. Starting a slide show is an easy task; you simply plug in a memory card or USB flash drive. You can also listen to MP3s while photos are streaming, but we found that the music sounded tinny.
The W1020 has 512MB of internal memory and supports multiple types of memory cards, including SD, SDHC, MMC, MS, xD, and CF, as well as USB flash drives. The W1020 does not handle nested folders on a memory card or a USB flash drive; it needs everything to be in the same folder.
If you use record video using a digital camera, you can play the videos on the W1020. Kodak's documentation states that the W1020 can play back MPEG-4, AVI, and MOV video formats, but the user guide says that videos "created with or copied from other sources may not play" on the W1020. So you may not be able to watch a video created using video editing software. Another limitation: The W1020 can't play high-definition videos.
The frame feels plasticky and a little cheap, but from a distance it looks fine.
Macworld's buying advice
You'll have to make some compromises with the EasyShare W1020's features, but its image quality is what separates this frame from the rest.
[Kathleen Cullen is a freelance contributor.]