Literature & Latte released Scrivener 1.52 earlier this week, but before I delve into the two big features of this point release, a little background on what Scrivener is. Scrivener is a word processor and a project management tool crammed into one. You can outline, keep research, and write your book all in one handy dandy app (and I should know, I've written two books with Scrivener).
Early adopters will be happy to note that Scrivener 1.52 is Snow Leopard-ready, so you can happily update your writing Mac (or Macs) to the latest cat without fear of stopping work on the great American novel. Also added is a more intriguing feature: WriteRoom.ws syncing.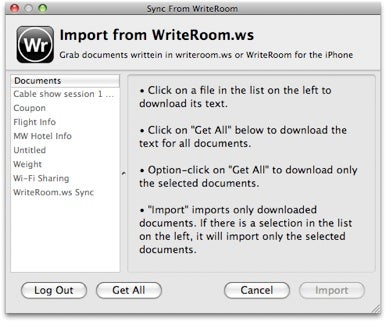 WriteRoom.ws a Web tool that allows you to sync notes written with the WriteRoom iPhone app, and then edit them, or create new notes, with any browser. With Scrivener 1.52 you can import notes from writeroom.ws, though you can't sync anything written or edited with Scrivener to WriteRoom.ws—the sync is one-way only. I can see this as being handy if you're out and about when a brilliant idea for a character in your manuscript hits you. Fire up WriteRoom for the iPhone, jot down your notes, and import them right into Scrivener when you get home.
Scrivener 1.52 is a free update for registered users; the full version of Scrivener costs $40. And, for a limited time, WriteRoom for the iPhone is available for just $1.