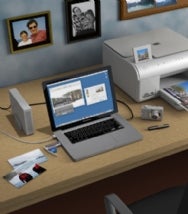 Photography used to be a pricey hobby. You had to pay for every roll of film you shot and developed, and yet you didn't have as much control over the final image as you would have liked. Thanks to computers and software, however, it's easy to set up a digital photo studio that has everything a shutter-happy parent or hobbyist might need. But doing it on a tight budget requires some strategy. So when I was recruited for Macworld's $300 Setup Challenge I started thinking about essentials (you can check out the rules of the competition here).
The setup
When creating my digital photo studio, I wanted a system that would let me transfer the images quickly from my camera to the Mac, digitize older photos, organize everything, polish up the gems, and share the images I'm proud of with friends and family. And to make sure I never lost a single shot, I also needed to make sure I could easily back up the photos so I'd be protected from hard drive failure. Since a digital camera is such a personal choice—and it's something you likely already have if you're interested in digital photography—I'm assuming you already have one. (If you don't, the $100 Canon PowerShot A470 [ ] is a great budget-friendly choice.)
Happily, Apple has already done some of the work for me. The company supplies every Mac with a copy of iPhoto. This venerable photo management application can handle uploading, organizing, basic image editing, and sharing. But the stock iPhoto-equipped Mac doesn't do everything.
Speedy imports
Every digital camera comes with a USB cable that you can use to transfer images to your Mac. But I prefer memory card readers for a couple of reasons. For starters, these little devices make downloading images much easier because they mount on the desktop where you can open them up just like a thumb drive. They're more efficient because they don't drain the camera's batteries during the transfer process. And they boot faster (the new 13-inch and 15-inch MacBook Pros include a built-in SD card reader).
So my first purchase was a SanDisk MobileMate SD Plus 5-in-1 Reader, which I found for $11.95 from Samy's Camera. This portable USB 2.0 device lets me upload my SDHC and Micro SDHC cards so my camera can take the night off.
The secret weapon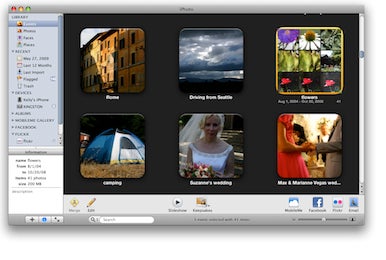 For managing and editing my photos, I decided to stick with iPhoto ( ). The program lets me organize my photos based on the date I took them, the location, and even the people in them. iPhoto also possesses a very competent set of editing tools for refining how the pictures look. As a bonus, iPhoto is a nondestructive image editor, which means it doesn't alter the original photograph—protecting me from bad editing choices or a change of heart down the line.
Sticking with iPhoto does somewhat limit my editing options—for example, I won't be able to use layers to create more complex effects—but considering the constraints of my budget, I decided I could easily live with that. None of the inexpensive image editors I considered provided the ease of use, elegance, power, and flexibility that iPhoto did. And stepping up to the excellent but pricier Adobe Photoshop Elements would have absorbed too much of my budget. When it comes to getting the most for my dollars, iPhoto is hard to beat.
Public viewing
Once I have my photos, I don't want to keep them to myself. In addition to editing and managing my photos, iPhoto also takes care of building slide shows. And I'm in great shape for e-mailing pictures—iPhoto and Mail work together seamlessly for this job.
Getting pictures on the Web presents more of a dilemma. Apple's MobileMe service is terrific, but at $99 a year, it's more than I'm willing to spend. Instead, I signed up for a free Flickr account. The online photo-sharing service lets me upload two 90-second videos and 100MB of photos each month. (For most folks, that should be at least 200 pictures a month.) Plus, with iPhoto '09, I can upload my images directly from my image library.
The paper chase
For all the Web has to offer, there's something to be said for physically holding a favorite photo. iPhoto does connect to an online printing service, but sometimes I want beautiful prints right now. I also have stacks of prints squirreled away that I would like to scan and add to my digital library.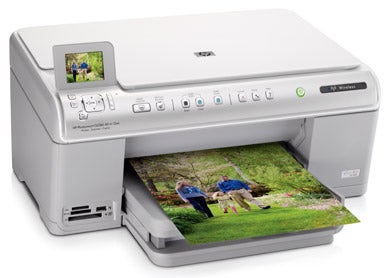 After digging around, I settled on the HP Photosmart C6380 All In One Wireless Printer ( ), which I found for $144.95 at Amazon. Even though it takes a big bite out of my budget, the versatile printer also fills many gaps. First, it has a print tray that accommodates both 4-by-6-inch and 5-by-7-inch photo paper, as well as an 8.5-by-11-inch paper tray. This means I can crank out snapshots regardless of what type of paper is in the bigger tray.
The C6380 also has a wireless connection, so everyone in the family can use it without having to take over my Mac. It only took me a few minutes to connect it to my AirPort network. (If you have an iPhone, you can even download HP's free iPhone app, HP iPrint Photo, to generate snapshots directly over Wi-Fi from your iPhone.) If I want a print right away, I can bypass the computer and print directly from my digital camera using the printer's built-in memory card slots, and upload the images to my Mac when I have more time.
This purchase also gives me the flexibility to use the built-in flatbed scanner to digitize my snapshots. For this task, I can either connect my Mac directly to the C6380 and use the bundled HP Scan Pro for customized scans that get dropped right into iPhoto, or, if the printer isn't connected to my Mac, save the scanned images to a flash drive using the printer's USB port, and then import them into iPhoto.
Most important, the printer uses four individual ink cartridges to produce archival-quality prints (60 years of light fade resistance, 15 years of ozone fade resistance) that are water resistant and look like they came straight from the photo lab.
Protection
I still had to address the looming issue of how to back up. I wanted a hard drive that would work with Time Machine if I needed it to, but would also gave me the flexibility to simply archive my photos. I sprung for the OWC Mercury Elite-AL Pro 160GB drive for $89.99 at Other World Computing. This 160GB drive is quiet, handsome, and has both FireWire and USB ports, so I know it will work with any Mac. I have the option of dragging my iPhoto library directly to the hard drive to copy it, or using Time Machine to manage my backups. In addition to all the cables, the drive also comes with Carbon Copy Cloner ( ), which lets me easily clone my entire system. But since photos take up quite a bit of room and are the most precious thing on my system, I chose to dedicate this particular hard drive to my images.
A bit of fun
That left me with just over $50 to spend. Wanting something just for fun, I picked up Echo One's $24.95 DoubleTake ( ), which lets me shoot multiple photos of a scene, and then stitch them together into one image. The software lets me manually move images around on its canvas, giving me a little more flexibility than standard stitching software. When I'm done playing around, I can save the final images to iPhoto so they are in my workflow—and they get backed up.
A better view
I still had just over $11 burning a hole in my pocket. I debated several options for spending the remainder, and settled on a Nikon Lens Pen cleaning system, which cost me $8.43 on Amazon. This handy tool lets me clean the small lenses on my compact camera and iPhone, and even those hard-to-reach optical viewfinders on DSLRs.
And with the last few dollars I bought an extra 4GB SanDisk SD card, which I found for a mere $14.95 at HiTechVendors. You can never have too many of those.
All of the essentials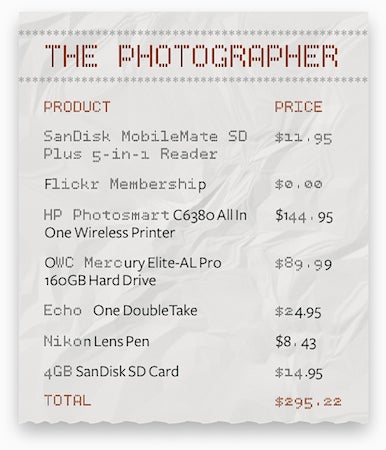 With iPhoto '09 as the cornerstone, I was able to put together a pretty slick photography lab for my $300. But it's a budget lab, no question. There wasn't room for a more-advanced image editor or a screen calibrator—two tools that can really make a difference in getting top-notch images. And I'd have liked some extra disc space for a full backup. But it speaks volumes as to how complete the standard Mac package really is, seeing that for such a paltry sum, you can put together a nice little photo setup.
The splurge
Once I was done with my shopping spree, Macworld asked what I would do with an extra With an extra $300. Here's what I'd add…
Calibrate my system The first thing I would do is run, not walk, to buy a Datacolor Spyder3Pro, which I found for $138 on Amazon.com. This device can quickly and easily color-calibrate every computer monitor in the house, so I know what I see on the monitor will match what comes out of the printer.
Get creative To do more than just fix basic image flaws, I'd jazz up my photo studio with Wacom's small Bamboo Fun tablet ( ). This pen and tablet combination makes image editing, and any other graphics application, downright enjoyable. And it's accurate, too. Plus it comes with Adobe Photoshop Elements 4.0 Mac, Corel Painter Essentials 4.0, and Nik Color Efex Pro 2.0 GE. So you're augmenting iPhoto with an excellent image editor and some great creative software to bring out the artist in you—all of which I got for only $85 from Amazon.com.
Become a filmmaker And finally, just for fun, I'd get Pure Digital's Flip Video Ultra camcorder to add a little movie-making magic to my photo studio. This pocket-size camcorder comes with Mac software and will let you add a little motion to your photographic endeavors. And I was able to pick up the 30-minute version for about $86 at Amazon.
[Senior Contributor and professional photographer Derrick Story teaches iPhoto on Lynda.com and runs a virtual camera club at The Digital Story. ]
Illustration by Jeff Grunewald