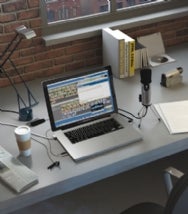 If you're looking to promote your hobby, trying to educate customers, or simply want to entertain the masses, the Web is quickly becoming the medium of choice. These days, that means setting up a blog—preferably one that features video and podcasts as well as text. Starting a multimedia blog isn't hard. Mainly you need tools for creating and capturing content and the means for staying up-to-date in your area of expertise—technology, in my case.
When I accepted Macworld's challenge to build a complete blogger setup for less than $300 (you can check out the rules here ), I knew I'd have to make some tough decisions and a few compromises. Here's what I ended up with.
The setup
Because of the multimedia aspects of the task, you'll need a reasonably powerful Mac. I started with a 13-inch MacBook, but an iMac would also fit the bill. I've assumed that you already have a camcorder—any DV camcorder made in the past several years will do nicely—though if you were desperate and willing to put up with lower-quality video, you could also get by with just the iSight built into your Mac. The rest we'll take care of with our $300 budget.
Words, words, words
To get my message to the world I'll start with a blog—a place to distribute and link to the content I create. Although an Apple MobileMe account provides a lovely Web space for such a blog—complete with picture and video galleries, beautiful templates, 20GB of file storage, and 200GB of monthly data transfer—it's a $99-per-year proposition, and that kind of money just doesn't grow on trees.
Thankfully, a variety of free blogging services are available. The two most popular are Google's Blogger and WordPress. I signed up for both and found that while I liked the more professional look of WordPress's templates and its roomier 3GB of storage (though you can't use this space for audio or video with a free account), Blogger was easier to get started with. The service offers just 1GB of storage; however, I could easily switch to WordPress later if I wanted to take advantage of its greater storage and configurability.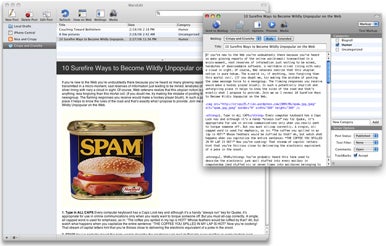 Because I prefer to craft my blogs offline with text tools that are more flexible than what Blogger provides, I also picked up a copy of Red Sweater Software's $30 MarsEdit 2 ( ). The blog editor is slightly more expensive than illumineX's $19.95 ecto, but I find it more reliable and prefer its intuitive interface. And since I like to work with plain text and add my own HTML tags, I didn't miss ecto's rich-text editor, which lets you work without worrying about HTML code (if you don't speak HTML and don't care to learn, ecto is the better choice).
For long blog entries, I also snagged Bare Bones Software's free TextWrangler. This powerful text editor offers great search and formatting capabilities, which make working with lots of text much easier. I can then paste the results into MarsEdit.
To avoid having to type the same text over and over, I decided to use a text expansion tool, which automatically expands abbreviations into a block of text—bbio for my current biography, for example. Here I was torn between Riccardo Ettore's $27 TypeIt4Me and SmileOnMyMac's $29.95 TextExpander. Their functionality is really close. Although I have been using TypeIt4Me for years (and like it a lot), the many predefined abbreviations that ship with TextExpander gave it a leg up for new bloggers.
Finally, to ensure that I have a rich stream of content to blog about, I grabbed a free copy of NewsGator's RSS reader, NetNewsWire ( ). The RSS support built into Safari is OK, but there's just no easier way to subscribe to—and quickly view—masses of news streams than NetNewsWire.
Media Mogul
A podcast just isn't a podcast without a microphone to record it. The internal microphone on my MacBook doesn't produce professional-sounding results, nor do I care for the sound of cheap USB headset microphones. For these reasons, I dropped another $75 (via Buy.com) on MXL's Studio 1 USB microphone. Complete with stand, carrying case, and USB cable, this is a good-sounding mic for the price.
My microphone mission wasn't complete, however. For my video screencasts, I needed a mic that improved upon the one built into my DV camcorder. Thus, another $26.49 went for Radio Shack's Hands-Free Tie-Clip Omnidirectional Electret microphone.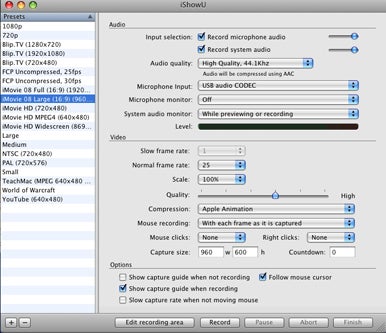 For editing my audio and video, GarageBand and iMovie, which came bundled with my Mac, provided all the tools I needed. However, I also wanted the option to capture the activity on my Mac's screen so I could demonstrate how to use software. The Mac OS can capture stills, but I also needed video capture. While I'm a big fan of both Ambrosia Software's SnapzPro X and Telestream's ScreenFlow, their respective $69 and $99 price tags put them out of the running. Instead, I chose shinywhitebox's $20 iShowU. It doesn't capture stills—I'll have to stick with OS X's built-in tools for that—nor does it have ScreenFlow's ability to highlight and zoom in on objects, but it's otherwise a capable motion-capture utility.
Finally, I also liked the idea of interviewing other people for my screencasts and podcasts. Skype lets me perform free audio or video chats with any other Skype customers. To record both sides of those interviews, I chose Ecamm Networks' $14.95 Call Recorder ( ). And because I can never count on every guest in my podcast speaking at the same volume, I also downloaded a copy of The Conversation Network's free Levelator ( ), which balances the volume of any recording fed to it.
Broadcasting
The cost of podcasting and screencasting depends on how broadly you want to distribute your content and how much grunt work you're willing to do.
To work around having to pay to host videos, I chose to upload my videos to YouTube and then embed a link to the videos in my blog. The videos appear as an integrated part of the blog, and this method saves the cost of having to purchase storage space or pay for bandwidth.
I could have used the same approach for hosting my podcast (this would involve appending a picture to the podcast, saving it as a movie file, and then uploading it to YouTube), but since I wanted to get that content into iTunes, I needed to store it in a reliable location. That meant paying for a hosting service. To stay within my budget I chose Liberated Syndication's libsyn50 plan. For $5 a month I get 50MB of storage per month and unmetered bandwidth. This means even if my podcast is a hit, I won't pay more than $5 a month.
iTunes distribution also requires that you generate an RSS feed for each episode. Although I could do that by hand-tweaking an XML file, it was completely worth the $39 I paid for Reinvented Software's Feeder, a tool that makes creating these files and publishing your podcast a cinch.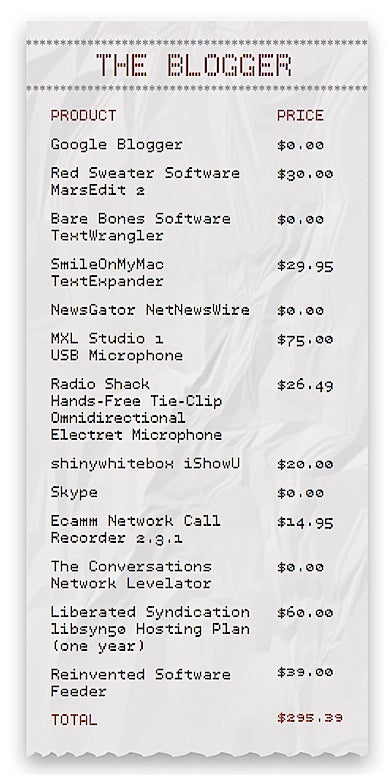 Compromises
My job was complete, with almost $5 to spare—and pretty satisfactory results. I could now post professional-looking blogs, embed podcasts and videos I created into my blog, and offer short podcasts via iTunes. I do regret not being able to afford a hosting plan that would allow me to produce videos viewers can subscribe to from within iTunes. And I'm keeping my fingers crossed that my hard drive won't fail me, since I didn't have the money for an expansive backup drive.
The splurge
Once I was done with my shopping spree, Macworld asked what I would do with an extra With an extra $300. Here's what I'd add…
Back up my files With a bit of extra cash in my pocket, my first purchase would be a good backup drive. When seeking inexpensive computer gear, Newegg.com is a good place to start. There I found a Seagate FreeAgent 500GB USB 2.0 external hard drive for $70.
Get more storage For $12 a month (which comes to $144 for a year), I can up my Liberated Syndication account to the libsyn250 plan, which gives me 250MB of storage per month. This is enough for me to store two 10-minute iPod-quality videos per month, with enough room to spare for my podcasts.
[Senior Editor Christopher Breen pens the Mac 911 blog and regularly produces podcasts and screencasts for Macworld.]
Illustration by Jeff Grunewald