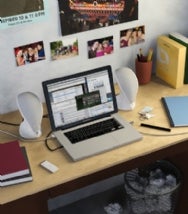 Being a student these days means you're neck-deep in some of the coolest technology you can't afford. As a recent graduate, I remember all too well what it's like to walk the line between pinching pennies and trying not to settle for the bottom of the bargain bin. So when Macworld told me I had $300 to set up my student Mac, it felt like old times (you can check out the challenge's rules here ).
The setup
Thanks to the prevalent Wi-Fi on most college campuses, laptops are a student's best friend. I started my setup with a MacBook. Apple includes a number of great programs for tackling creative projects, but for many of the more academic (and not-so-academic) parts of student life, I had to fill in a few blanks. Making things more challenging, I needed a system that could do it all—including keeping me on top of classroom lectures, organizing projects, making the most of my downtime, and helping me stay in touch with distant family and friends.
Study aids
Let's start with the basics: getting homework done. There's no shortage of options on the Mac for taking notes, writing papers, or recording lectures. But finding one program that covered everything was more of a challenge. Note-taking apps like Circus Ponies Software's NoteBook fall short when you need a spreadsheet or presentation. And while the Mac's built-in TextEdit is free, it isn't very good for much more than the most basic of writing assignments. Google's free online Docs service may be a good option for some users, but as soon as your Internet connection is gone, access to all your work disappears too.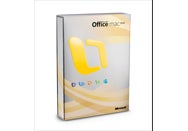 To make sure I can tackle anything my professors throw at me—whether it's a finance class this semester or French poetry the next—I decided to go ahead and invest in Microsoft Office 2008 for Mac Home and Student Edition. Yes, it's more expensive than other competitors, but it has the best productivity bang for my buck. Word 2008 features a Notebook Layout view perfect for taking notes, tracking tasks, and outlining paper topics, and the built-in voice recorder ensures that I can go back to hear exactly what my professor said. Excel is practically a necessity no matter what your major is, while PowerPoint and Entourage round out the package nicely.
To make it all the more attractive, I was able to pick up the Home and Student Edition on Amazon for $107.99, which is about $40 off the regular retail price, and just $37 more than the student pricing on Apple's competing product, iWork.
For studying in bite-size morsels, I also picked up a copy of Loopware's $14.95 iFlash ( ), the perfect flash-card maker. It includes a massive library of premade card sets such as language primers and math guides, and it gives me the freedom to create my own sets. I can then print out my cards to take a break from the computer, or I can sync them to an iPhone or an iPod touch, classic, or nano.
Taskmasters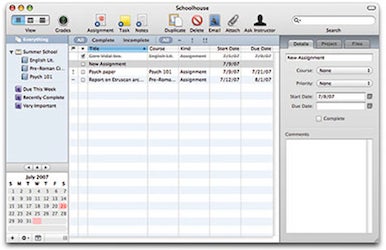 To keep track of all my assignments, I decided to pick up some project management software. Altered Axis's Schoolhouse 2 ( ) can track grades and tasks, and even publish assignment schedules to the Web, letting me collaborate with other classmates. And since Schoolhouse 2 is donationware, I was able to set my own price for this one (after evaluating my budget, I went with $7).
That takes care of my homework deadlines, but there are plenty of other things going on around campus that I need to keep track of. For these, I stuck with Apple's iCal. To keep iCal visible, I downloaded HashBang Industries' $12.99 iDeskCal, which displays iCal's events and to-dos right on my desktop.
And because sometimes an iCal alert just isn't enough—especially if I've dozed off—I also picked up Koingo Software's Alarm Clock Pro 9. It can do just about anything, such as text you at a specific time, start an iTunes song or playlist, start up your Mac or put it to sleep, and open specific documents and Web sites. For $19.95, Alarm Clock Pro is probably the best personal assistant money can buy.
Finally, to help me keep up with the local music scene, I downloaded iConcertCal. This free plug-in scans your iTunes music library and displays a calendar of upcoming concerts, including links to buy tickets. You can then save a version of that calendar into iCal.
Campus security
Thieves love laptops as much as students do. Fortunately, most notebooks include a standard lock port. Some notebook locks work with a key mechanism—but, like last week's homework, keys are easily misplaced. When it comes to protecting an expensive laptop, I prefer to remember a lock combination. So I chose Kensington's ComboSaver Combination Portable Notebook Lock, available for $20.33 at Amazon. You can attach its compact coiled six-foot cable to almost any grounded object, such as a bolted-down table in a coffee shop or the desk in your dorm room.
Bacon saver
As a student on a deadline, you may encounter one of these nightmare scenarios: you accidentally overwrite a paper or project and desperately need to get an old version back; you forget work on a computer at a friend's place or the lab the day it's due; or your hard drive fries. Sadly, all three situations are painfully common—which is why you can't repeat this mantra often enough: back up your stuff.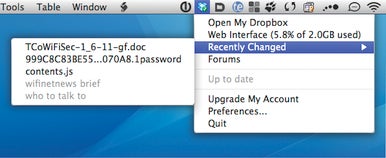 Dropbox manages to hit all three birds with one stone. Dropbox's free plan offers 2GB of online storage, and it's incredibly easy to use. When you save a file to a Dropbox folder on your Mac, it's automatically uploaded to your secure Dropbox account online. Make changes, and Dropbox keeps track of previous versions—perfect for recovering an older version of your paper before you added that late-night two-page rant about your professor. What's more, your Dropbox files are accessible on the Web (the syncing service works on Mac, Windows, and even Linux), so you can work with just about any computer on or off campus.
Entertainment
Enough with work. When I'm ready to relax, my MacBook easily does double duty as a TV—though admittedly a small one. What's more, thanks to the Internet, I have a ready stream of viewing options that don't cost a thing.
Since I don't plan on getting up every time I want to change songs or watch a video, a $19 Apple Remote is a necessity. It has some of the best six buttons money can buy.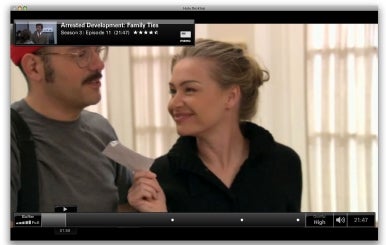 Of course, I'll need something to watch on my Mac, which brings me to Hulu. Hulu is like YouTube for mainstream TV shows and movies. Now with the free Hulu Desktop client, you can watch Lost, The Simpsons, The Daily Show with John Stewart, and a host of feature-length films in glorious full-screen mode on your Mac for free. Bonus: you can control Hulu Desktop entirely with an Apple Remote, unlike Hulu.com.
Adding the perfect yang to Hulu's yin, Boxee is a more general media-center application. While Boxee streams some big studio content, its real appeal is in all the other Internet media it works with—MTV music videos, Pandora streaming radio, Netflix, MySpace Video, Revision3, Comedy Central's Web exploits, and much more. It can also play your local music and videos, including non-DRM iTunes media. And it's all for the low, low price of free. And as with Hulu Desktop, you can control Boxee with an Apple Remote.
Finally, a MacBook can't serve as a great portable TV without a decent set of speakers. Adhering to the tight budget, I went with the JBL Duet II speakers from Amazon for $52.64. They won't rattle the walls, but they get a good range of sound for the money and they don't take up a lot of space.
Long-distance connections
A basic cell phone plan might fit into many a student budget, but bills can add up for heavy chatters, especially when you're calling other wireless networks or long distance. And while video calls may be the future, they only work if your recipient also has a Web-cam-equipped computer—not a sure bet. I needed something that would offer me both video and voice chats. After looking around, I chose a Skype Unlimited plan for $30 per year (this price is available once you go to check out). I can make as many calls as I want from my MacBook to family, friends, and that significant other who picked the wrong college, even if they don't use Skype. The service also includes video calls to anyone who uses Skype, and quality is top notch.
Of course, the phone isn't the only way people keep in touch these days. You have to update your Twitter feed to let your friends know you're still alive, to post road trip photos to Facebook, and to check Digg for interesting news. To keep it all manageable, I splurged on Cosmic Machine's EventBox, which acts as a one-stop social-networking shop. It might seem weird to pay $15 for social networking software, but EventBox lets me use Twitter, Facebook, Flickr, Digg, Google Reader, and Reddit all from one centralized, beautiful application. Put another way, Eventbox lets me spend less time on social networking and more time on being social.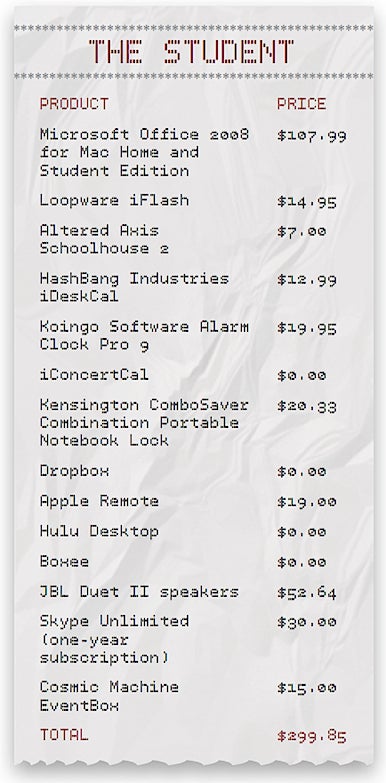 Live long and study
As with most things in student life, stretching your Mac-furnishing dollars requires some creativity and flexibility. That said, I'm pretty happy with this setup. It gives me everything I really need without feeling skimpy. I'd prefer a bigger screen and a gadget like the EyeTV for watching live TV programs. But considering how little room there is for downtime in a student's life these days, those luxuries can wait until my budget graduates.
The splurge
Once I was done with my shopping spree, Macworld asked what I would do with an extra With an extra $300. Here's what I'd add…
Get more organized Keeping track of homework assignments is essential, but I also like to jot down notes and to-dos for everything I need to get done. So the first thing I'd buy with my sudden windfall would be Things ( ). This program lets me quickly get tasks out of my head and into a tool where I can make use of them. The Mac client is $50, and for those users with an iPhone or iPod touch, a companion mobile app is $10. While you certainly don't need both to be productive, they are a formidable team for keeping your life in sync.
Pump out the sound It's possible to ditch the TV and cable entirely for one's entertainment needs these days, but a few upgrades can really make your dorm room shine. First, I'd skip the JBL Duet II speakers (giving me back almost $53) and instead get a set of Harmon Kardon SoundSticks II, which I found for $107.99 at Amazon. The SoundSticks include a subwoofer to really pump out the bass and low tones, and their unique aesthetic is guaranteed to catch people's eyes.
Go big My MacBook is nice, but I prefer to experience Hulu, Boxee, and my iTunes media on the largest screen I can afford. An ASUS 22-inch 1080p widescreen LCD is a much better fit. I found one on sale at Dealmac for $139. To hook it up to my Mac, I also needed a Mini DisplayPort-to-HDMI adapter, which I got for $14.42 from Amazon.
[David Chartier graduated from the University of Colorado at Denver in 2008 with a degree in multimedia design. He writes about all things technology for publications like Macworld, Wired, and Ars Technica.]
Illustration by Jeff Grunewald