Now Software has announced the release of Now X, a new group calendar and contact management software suite for Mac OS X and Windows. Now X costs $130 for a new license (an introductory price—the regular price is $150), or $50 to upgrade from Now Up-to-Date 5.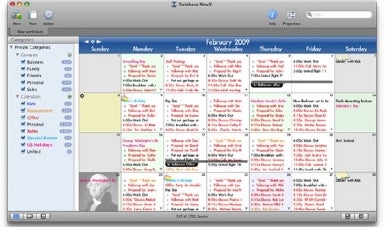 Now X—previously code-named NightHawk—is an integrated application. Both Now Up-to-Date and Now Contact are combined in Now X as "modules." The interface has undergone significant changes, with an Aqua interface on the Mac, translucent, live-resizing banners; tab sets; extended view options and other embellishments.
Functional improvements include data synchronization with Apple's Address Book and iCal; sync with all iSync-compatible mobile phones and PDAs, a Structured Query Language (SQL)-based database; support for auto-updating; contact and event templates; international support (with Unicode and calendar week support); centralized user administration; secure network transfers and more.
Now Software notes that a Now X server product is in development that will allow users to sync calendars and contacts between multiple users. Other modules designed to expand Now X's functionality are also being designed.
This announcement marks the Mac version of Now X's debut; the Windows release is still in active development.
System requirements call for Mac OS X 10.4.11 or later.