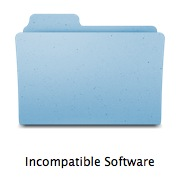 Snow Leopard day is finally here, and forecasts call for the deluge of application compatibility updates to continue throughout the day. However, there are some specific programs that are currently incompatible with Snow Leopard—so incompatible, in fact, that 10.6's installer will move them into a folder called Incompatible Software on your hardware.
Apple's provided a list of the software in question, which it says could cause cause issues in Snow Leopard. Among them are such prominent applications as Parallels Desktop 2.5 and earlier, McAfee VirusScan 8.6, Norton AntiVirus 11.0, Unsanity's Application Enhancer 2.0.1 and earlier, and several versions of AT&T Laptop Connect Card. Check the full list for more apps and links to vendors site where upgrades will hopefully be available.
The knowledge base document also contains a second category of applications that Apple restricts from opening—if you try to launch one of these programs after ugparding to Snow Leopard, the OS will pop up a dialog box telling you the software in question is incompatible. This includes Parallels Desktop 3.0, Intego VirusBarrier X4 10.4.4 and earlier, SPSS 17.1, Adobe Director MX 2004, Elgato EyeTV 3.0.0 to 3.1.0, THQ's Ratatouille 1.1, Aperture 2.1.1 and earlier, Keynote 2.0.2 and earlier, and the AirPort Admin Utility for Graphite and Snow Base Stations 4.2.5.
Apple recommmends you check with vendors to see if Snow Leopard-compatible updates are available for those applications, and, as with the above list, provides a links to their respective vendor sites. There are some interesting patterns in evidence, though: for example, three major antivirus packages appear on the list. It's a little surprising that no less than three Apple applications appear on the list as well, but none are current versions.
Fortunately, this is a relatively small list of software, and most will likely be updated before too long. Still, if you rely on one of these programs and the vendor doesn't have an update yet, you might want to hold off on jumping to 10.6 for now.