If you're using a Palm OS-based PDA or smartphone and you plan to upgrade to Snow Leopard, you're going to need third-party software if you plan to synchronize your Mac data to the device. Snow Leopard breaks compatibility with Palm's moribund Palm Desktop software once and for all. Fortunately, Mark/Space says that its Missing Sync for Palm OS has been tested to work with the operating system.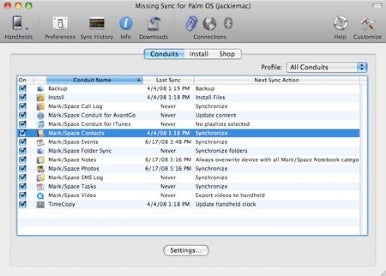 With Mac OS X versions up to Leopard, Mac users have been able to install a software component that enables their Palm OS-based devices to sync with the Mac and work with Apple's iSync software. That software no longer works with Mac OS X 10.6 "Snow Leopard," which officially reaches users beginning today.
It's been quite some time since Palm updated its Palm Desktop software for the Mac, and the company shows no signs of doing so any time soon. Palm is increasingly transitioning to support WebOS, the operating system used in its new Pre smartphone.
So what's the user of a Palm Tungsten or Zire device, or a Treo or Centro to do? Mark/Space's $40 Missing Sync for Palm OS supports Snow Leopard, according to a statement released by the company.
The Missing Sync for Palm OS syncs contact information, calendars and tasks with Address Book and iCal, but it goes beyond that — it can also transfer photos, syncs contact photos, syncs music playlists and video, synchronizes notes with Microsoft Entourage, Bare Bones Yojimbo or Mark/Space Notebook (an app included with the package), copies folders, documents and files to the Palm OS device, lets you save text messages and extract information, and copies Treo and Centro call history to your Mac.
Missing Sync for Palm OS is also available as a $30 "crossgrade" for users of other Mark/Space products.