My wedding anniversary is coming up next month. It's an easy day to remember, especially this year—nine years ago, my wife and I got married on the ninth day of the ninth month. But I'm terrible with other dates, especially birthdays. Hand Carved Code's Occasions app for the iPhone and iPod touch exists to prod me out of my absent-mindedness. And it actually does a pretty good job at it.

Obviously, if you forget to check a reminder app, it's of no help and you're still a forgetful idiot. What makes Occasions worthwhile is the push notification feature. So even if you don't regularly check the app, you can see a badge count on the app's icon in your device's home screen. Better still, Occasions can alert you either a few days before an event or on the day itself. The app helpfully displays special occasions up to a month in advance.
Occasions is convenient, too, because the app lets you import information from your contact list. But you can set up custom entries from scratch if need be.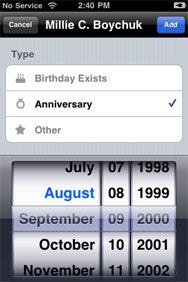 The app has some other sly features, too. You can filter contacts by upcoming occasion–birthday, anniversary or other special event. Because Occasions links to your contact list, you can call and e-mail directly from the app. The app also has a helpful notepad addition and you can select from among eight background colors and themes. And Occasions gives you the option of showing a contact's age and photo. You can include or exclude birth and anniversary years, too.
One annoying downside: You need to create separate entries for anniversaries and birthdays for the same contact. It would be better if you could completely set up the same contact all at once.
Occasions is compatible with any iPhone or iPod touch running the iPhone 2.0 software update or later.
[Ben Boychuk is a columnist and freelance writer in Rialto, Calif. Feel free to e-mail him.]