Racing games seem to just keep getting better on the iPhone and iPod touch. Resolution Interactive looks to be a part of this welcome trend with Dirt Moto Racing. Careening its way into the App Store with loads of high-octane, heart-pounding action, this $5 ATV racing game takes the checkered flag.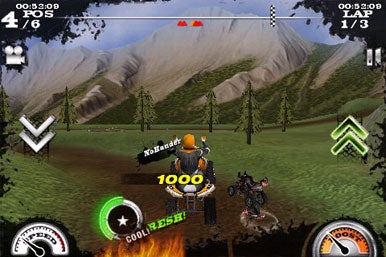 Dirt Moto Racing has two main modes of play—Career and Single Event. The former mode consist of eight tours spread across four real-world locations: British Columbia, Death Valley, Toronto, and the Florida Keys. (The free Dirt Moto Racing Lite restricts you to British Columbia and Death Valley.) Each tour has four events to compete in, such as a checkpoint race where you have to run through a number of flags spread out on an open terrain, a sprint race that is an all-out sprint to the finish line with unlimited turbo, elimination events, or the traditional lap race.
Earning a medal in a career race unlocks it for Single Event mode and adds the ability to race in a time trial against your personal best or an opponent's ghost from the leaderboards. Adding to the replay value of Dirt Moto Racing are 21 achievements to unlock, like performing a long wheelie or slamming into ten opponents during a race.
Another benefit to winning races in career mode is that you get tuning points, which you can then spend on upgrading your ATV with better speed, acceleration, steering, grip, shocks, break and lift. You can allocate these points to suit your personal racing style, and they can be reallocated any time. You can also choose your rider's outfit, ATV paint job, and gender in the options menu.
Dirt Moto Racing sports an attractive and polished interface that relies on a combination of touch and tilt controls. You steer by tilting the device left or right while accelerating; braking and turbo boost functions appear as on-screen buttons. You can even adjust the sensitivity of the accelerometer to suit your liking in the options menu.
The combination of responsive controls and accurate physics provides for a natural feel to the driving experience in Dirt Moto Racing. If you do a hard tilt, your driver will go into a power slide and drift around corners. To preform basic stunts you tap a button while in the air; swipe your finger across the screen in one of four directions to do power stunts. There are 12 stunts in all, ranging from no-handers to back-flips. Power slides and stunts fill up your turbo meter so you can blast past the competition.
The graphics in Dirt Moto Racing are pretty good with well-rendered riders and good-looking landscapes. Better still are the rider animations as they lean into turns or shake their fist at anyone who bumps into them. The sound effects in the game are great, with riders yelling at each other against the realistic sounds of the screaming engines and a hard rock soundtrack.
Dirt Moto Racing is the pinnacle of its genre and only lacking in one area—a true multi-player mode. I realize online multi-player is hard to pull off but a game of this caliber could at least give us a Wi-Fi mode in which to race against friends. Still, this $5 racer is a great game.
Dirt Moto Racing is compatible with any iPhone or iPod touch running the iPhone 2.1 software update.
[Tim Mercer is a technology enthusiast, graphic designer, and blogger, whose blog, digital-artist-toolbox.com, offers free resources to the digital artist and graphic designer.]