Editor's Note: The following article is reprinted from Macworld UK. Visit Macworld U.K.'s blog page for the latest Mac news from across the Atlantic.
Facebook 3.0, the latest version of the iPhone application from the popular social networking site, is now available from the Apple iTunes App Store.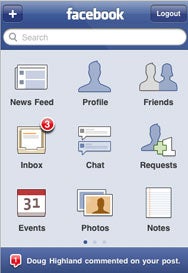 Facebook 3.0 adds a range of new features and enhancements including landscape mode, the ability to see upcoming events and RSVP, upcoming friends' birthdays, see pages and post updates and photos to pages you administer, write notes and read friends' notes.
Additional new features in the 3.0 update include the opportunity to upload video direct from the iPhone 3GS, upload and manage photo albums, including creating and deleting albums and photos along with tags and changing your profile picture.
iPhone and iPod users can now zoom in on photos, like photos and posts, see the same news feed as the Facebook website and visit links in a built-in browser.
Push notification, introduced in the iPhone 3.0 Software Update, isn't yet working in the latest Facebook application update.
Push notification, allows an application to listen for messages being pushed to it from the server, even when the applications aren't running.
Writing on Facebook last month, the company said the option was still a little way from being ready. "The one feature everyone is asking for, push notifications, is in development but it won't make it into 3.0. You can expect it in a 3.1 update later this summer," a Facebook employee wrote.
Available from the App Store, Facebook for iPhone and iPod touch is free and requires the iPhone 3.0 Software Update.