Rockstar Games on Monday announced plans to release two new games for the iPhone: Beaterator and Grand Theft Auto: Chinatown Wars.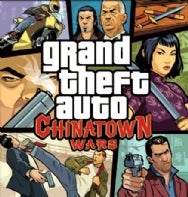 Originally developed for the Sony PlayStation Portable (PSP), Beaterator features thousands of loops and sounds made by Rockstar and by famed record producer, singer, and rapper Timbaland. You can reassemble the loops and sounds to create your own songs, which you can then save and play back later. The game is expected to be released for PSP at the end of September, with the iPhone and iPod touch release "this fall."
Grand Theft Auto: Chinatown Wars is based on Rockstar's enormously popular action game for video game consoles. It's an iPhone and PSP adaptation of a game first developed for the Nintendo DS and more recently for the PSP (for which it's coming out in October). The iPhone and iPod touch release is also expected "this fall."
Grand Theft Auto: Chinatown Wars follows the story of Huang Lee, who becomes embroiled in a vicious battle with the Triad gangs of Liberty City following his father's murder. The game features an elaborate, epic storyline with side-missions, mini-games and other details.
Specific system requirements and prices were not announced.
Note: When you purchase something after clicking links in our articles, we may earn a small commission. Read our affiliate link policy for more details.