It seems like my life revolves around managing an ever-increasing number of tasks. To help keep everything in order, I've come up with a pretty simple system involving Things, the awesome to-do list manager, and my email Inbox. (In honor of both productivity guru Merlin Mann and bad '80s movies, I have dubbed my system "The Thing with an Inbox Less Than Zero.") Here's how it works: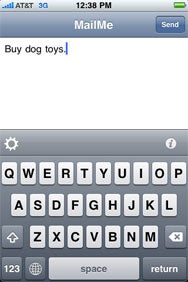 Tasks flow into my Inbox. If the task is quick and easy, I'll just do it immediately and then remove the message. If I can't do it right away, or if it's part of a bigger project, then I'll enter it into Things and remove the message. If it's something I just don't feel like dealing with at the moment, then it remains in my Inbox. Items in my Inbox eventually get processed and I achieve nirvana when my Inbox becomes empty.
There's also a useful Things iPhone app, but when I'm away from my computer, I prefer to record tasks or reminders by sending myself a quick e-mail and putting them into my Inbox workflow. Always in search of more efficient ways of doing things (my wife prefers to call this noble quest "laziness"), I want that to be a super-quick process, and using the iPhone's Mail app is more of a hassle than you might think. Then I discovered MailMe by inUse, and my system became complete.
MailMe does only one thing: It lets you send yourself an e-mail in the fewest possible steps. No creating a new message, no selecting your address or typing a subject. Just open the app, type a message and send it. That's it.
The note appears in your Inbox with your text appearing in both the body and the subject line. Perfect. That way I don't even have to open the message to process it. And since the subject line is prefixed with "MailMe," that makes it easy to create a mail rule to flag those messages.
Setting up the app is very simple. The first time you use MailMe, you give it your e-mail address and your smtp (outgoing) mail server info, then you're ready to go. One option I would like to see is the ability to assign a priority (High, Normal or Low, say) to your messages. Other than that, MailMe doesn't do much, but it does exactly what I want. It's simplicity at its finest.
MailMe is compatible with any iPhone or iPod touch running the iPhone 2.x software update.
[Brian Beam is web developer and partner with BOLD Internet Solutions, living somewhere near Kansas City.]