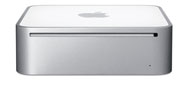 Apple on Monday released firmware updates for the Mac mini and for certain SuperDrive-containing systems.
The company says that Mac mini EFI Firmware Update 1.2 improves compatibility with the latest Apple memory kits on Mac mini computers, although doesn't specify which Mac mini models it's intended for.
SuperDrive Firmware Update 3.0 is designed to eliminate the noise made by your Mac's optical drive during system startup and wake from sleep. It works with the mid 2009 20-inch iMac, early 2009 24-inch iMac, and early 2009 Mac mini. Apple explains how to determine whether your Mac needs the update in a support document. It requires a Mac mini with today's firmware update, or an iMac with iMac EFI Firmware Update 1.4 installed.
Both updates require OS X 10.5.7 or later.