There is apparently no end to the number of games based on the concept of shooting marbles, moving marbles, or making marbles disappear. I spent a lot of time with Peggle( ), and liked it a lot. But MumboJumbo's Luxor manages to stroke the same parts of my brain that Tetris does, creating a challenging (yet not overly frustrating) game that's beautiful to look at and fun to play.
Luxor's Egypt-themed premise is fairly simple. A scarab beetle slowly pushes a rack of marbles along a circuitous path that leads, ultimately, to a pyramid. At the bottom of the screen, you've got a winged marble shooter loaded up with a single colored marble. If you shoot a colored marble into a chain of three or more like-colored marbles, they'll disappear. Do it enough, with enough speed or panache, and bonus coins and power-ups will fall down for you to catch in your shooter. Once you eliminate all the balls in the rack, the scarab beetle departs… but another rack is close behind. Once you've exhausted all the scarabs on a level, you advance to the next level. But if a single marble makes it all the way to the pyramid, you've committed a "foul" and have to start over.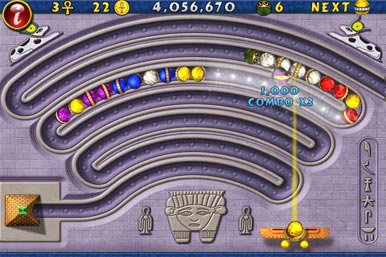 The levels start simple, but ratchet up in intensity. Initially each level contains four different marble colors, but as you advance, you'll discover new colors adding even more complication. Sometimes two strands of marbles advance on you at once, making things that much more difficult. On particularly trickly levels, new strands appear at the bottom of the screen, obscuring older strands until you can clear away the new ones.
I was able to complete most of the levels in one or two tries, but a few of the levels bedeviled me, taking as many as five tries to get through. As a result, I always felt challenged but didn't end up getting frustrated as I would have if I felt that I wasn't making any progress.
Luxor makes good use of the iPhone's interface. You slide the marble shooter along the screen with your finger. (A colored line extends up the screen, indicating where your marble will go when you shoot it.) To shoot the marble, just tap on the shooter. A hint view—placed inconveniently in the top-right corner of the screen—lets you see what color is coming next, and a quick finger swipe downward lets you swap the two colors.
A clever "brag" feature lets you post your level successes—and advertise the game—to your Twitter and Facebook pals, though I wish the game would let you customize your messages rather than force you to rely on the game's generic ones. And Luxor also built-in support for ngmoco's Plus+ social gaming network.
Luxor's graphics are colorful. It's got tolerable Egyptian-themed background music, but also respects the music you're playing via the iPod app and overlays it with in-game sound effects.
In the end, Luxor is a fun, colorful game that will have you counting colored marbles in your sleep. Its iPhone-friendly controls and gently escalating difficulty levels make it a great choice for fans of action puzzlers.
Luxor is compatible with iPhone and iPod touch models running iPhone OS 2.2.1 or later.
[Jason Snell is Macworld's editorial director.]