Pocket Universe would amaze Galileo. It's a $3 app from Craic Design that puts the entirety of the night sky in your pocket, and it's truly an impressive marvel. The iPhone can do some amazing things, but it feels especially remarkable to keep the heavens in your pocket.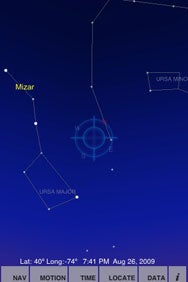 If you're using an iPhone 3GS, Pocket Universe can use the GPS features to know almost precisely where you're looking as you point your iPhone skyward, updating its display in realtime. If you're using an earlier iPhone or iPod touch (as I was in my testing), the app can still use Location Services to pinpoint your approximate location and can detect as you tilt the device up or down, but you're forced to drag left and right for lateral movement. I didn't mind dragging on my GPS-less device.
I'm not an experienced astronomer—I'm a total beginner. Pocket Universe's Locate feature blew me away; I asked it to show me planets, constellations, bright stars, and Messier objects, and the app used arrows to guide my gaze both on screen and in reality. Many objects offer brief explanatory text if you want to learn more about what you're seeing. And since Pocket Universe knows both where you are and the current time, it's representations of where celestial objects should be are consistently accurate. (Of course, you can travel through time with the app as well, if you want to look up what the sky will look like, say, next week during your trip to the country.)
This is obviously an app you'll want to use outside, in the dark. Accordingly, the developer implemented several exceedingly clever options catering to such use: Nightvision mode replaces bright whites in the interface with deep reds, so you won't suffer that blinding retina burn-out sensation when you look from screen to sky. You can also adjust the faintest stars Pocket Universe should display, which is helpful if you live in an area with heavy light pollution, or if you just want to focus on the brightest stars. And it's painless to toggle the display of different heavenly bodies.
I'm a big fan of the Tonight's Sky report, which gives you a good sense of what you'll be able to see tonight—and when. For example, I know that as I write these words, Jupiter will be visible with the naked eye tonight, and that the moon phase is waxing crescent. I know Mars will rise around 1:09 a.m., and will become visible around that time. I can even e-mail this report to anyone without leaving the app, which is a nice touch if you have amateur stargazing friends.
I didn't know I wanted Pocket Universe until I saw it in the App Store. I'm thrilled that the app has rekindled my childhood interest in the night sky, and I'm continually impressed by its completeness: I'm unable to identify any killer feature it lacks.
Pocket Universe is compatible with any iPhone or iPod touch running the iPhone 3.0 software update.
[ Lex Friedman finally knows where to find Cassiopeia, and not just how to spell it.]