I've had a love-hate relationship with baseball video games since I was a kid playing MicroLeague Baseball on the Apple II. I love the stats-based games, but the more action-oriented simulations have always frustrated me, despite my endless investment in the latest and greatest versions. Maybe it's just hard to map the skills of batting, pitching, and fielding to game interfaces. Maybe I just find the strategy of baseball more appealing than the see-the-ball-hit-the-ball mechanics of batting.
For the last month, I've played two iPhone baseball games, with varying degrees of frustration and interest. Despite the fact that both use nine players, a diamond with a home plate and three bases, and the same common rule set that's been in place since the end of the 19th century, they're about as different as two games can get.
Read more…
MLB.com's MLB World Series 2009—previously $8, but on sale for $3 as of this writing—has the advantage of bearing the MLB logo and the names and logos of all its teams. (While it includes player stats for each team, none of the names or likenesses of the actual players exist within the game, meaning the developer didn't bother to license that information from the players' union. Instead, your players are identified by their position and number alone, with names such as "Outfielder" and—my personal favorite—"Reliver." If at first you don't liver, try again, I guess.)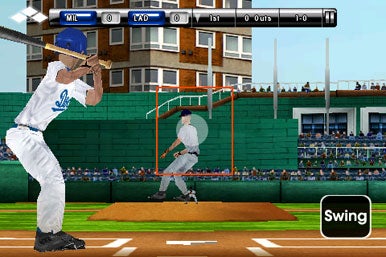 You can choose to play exhibition games or a series of playoff games, culminating—so long as you keep winning—in the World Series. Win three series and you're world champs. (As the playoffs progress, you see the results of other games, so you can hone in on who you'll be facing in later rounds.)
When you're pitching, you tap one of four pitch types to select which pitch to throw. Then you must slide your finger—as fast and straight as possible—across an arrow on the screen. The proficiency with which you slide determines how fast and accurate your pitch will be, sort of like double-tapping a pitching meter in an arcade or console baseball game. Then, as your pitcher begins to wind up, you tilt your iPhone to move a red circular target that allows you to aim your pitch. If it's a hit, you can opt to let the game automatically choose which base to throw to, or you can make those selections yourself by tapping on a base on a small on-screen diamond.
If you want to move fielders around, you're out of luck—all of those actions are controlled by the app itself. And some of the fielding animations—such as slow rollers through the hole going for doubles because the infielder walked casually to the ball—are things you'd never see in a real game. But in general, the animations are fluid and fairly realistic.
When you're batting, you also tilt the iPhone, this time to move a circle around in your strike zone. The goal is to place the circle where the pitch will cross the plate, then tap on the Swing button (in the bottom right corner of the screen) to swing. When you're running, you can tap on a base on the on-screen diamond to determine where your runners are headed.
If you seek realism in your arcade-style baseball games, World Series 2009 delivers, right down to the logos on the jerseys. Using the iPhone's accelerometer to control the pitching target and bat location is inspired, and using finger swipes to determine velocity and accuracy is also smart. But gameplay can get a bit monotonous, and it's unfortunate that these "real teams" aren't stocked with the names of the real players we know and love. It's hard to get excited about a late-inning duel between "Reliver" and "Outfielder" when it should be Brian Wilson against Manny Ramirez, you know?
Reality is not a problem that Gamevil's $3 Baseball Superstars '09 has. It's a cartoony baseball game featuring short players with big heads. The teams have names and the players do, too—but they're all invented, with team names like Unicorns and Dragons. It's clearly a product of baseball-mad Korean minds, right down to the heavily accented umpires and the Nintendo-flavored gameplay, including trick stadiums and "super" players with wild outfits and magical pitches and/or swings. ( Baseball Superstars Lite lets you sample the game's Normal, My League, Season, Homerun, and Mission modes for free, but limits the number of innings you can play.)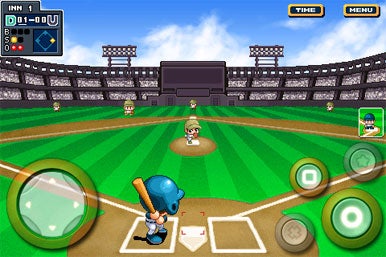 But don't let the cartoonishness fool you. If you like baseball video games, Baseball Superstars delivers. It may not provide realism, but the game definitely provides fun gameplay and deep features, including custom player creation, unlockable characters, and a roleplaying mode that lets you handle your player on and off the field.
A colleague of mine tells me that his nine-year-old son loves Baseball Superstars to death, and I can see why. As a baseball fan who was not inoculated with Nintendo games at a young age, I don't really see the appeal of the cute characters and unlockable game modes. And hits in the game seem more like balls flying around a pinball machine than anything you'd see on a real baseball diamond. But I am big enough to recognize that perhaps I am not the target audience for the game.
Beyond the cartoonish gameplay and super-powered characters, my biggest complaint about the game—which has appeared on numerous platforms in the past—is its lack of support for iPhone-specific features. The game has obviously been designed to be used with physical buttons which the iPhone lacks. Instead, to play the game you have to tap on virtual buttons—a virtual D-pad on the left side of the screen and a virtual utility pad on the right. You can't even tap on menu items in order to select them; you have to scroll by tapping on the virtual D-buttons. Since you can't feel the buttons, it's easy to get disoriented and lose track of their position relative to your fingers. I found myself looking for the right button to press all the time. Using virtual buttons is a clever way to port a game designed for other platforms over to the iPhone, but users who have come to appreciate the iPhone's native controls will find it seriously annoying.
So which is better? Speaking as someone who is much closer to 39 than 9, I'd have to say World Series 2009, both for its more realistic gameplay and for its clever integration of native iPhone features such as swiping and the accelerometer. But if you're a 9-year-old boy, you might want to tell this old man it's time to hang 'em up and make way for the next generation of players, with their magic-dragon fastballs and pinball stadiums.
Both games are compatible with any iPhone or iPod touch running the iPhone 2.x software update.
[Macworld editorial director Jason Snell wishes the San Francisco Giants' pitching staff could master the magic-dragon fastball in time for their playoff chase.]