Canon U.S.A. on Tuesday introduced the EOS 7D digital SLR camera. It will be available at the end of September for $1,699, or packaged as a kit with an EF 28-135mm f/3.5-5.6 IS USM zoom lens for $1,899.
The EOS 7D features 18-megapixel resolution, shoots at up to eight frames per second and can record 24p full HD video. It touts a 19-point autofocus system and a new metering system that Canon calls iFCL (intelligent Focus, Color and Luminance). It supports UDMA CF cards, with which it can capture eight FPS continuously (up to the size of the card). ISO speed settings supported range from 100-6400 (expandable to 12,800).
Video shot with the camera is at 1920 x 1080 resolution and can be set at 24p, 25p or 30p frame rates. You can shoot in 16:9 or 4:3 aspect ratios, using either the integrated mono mic or an external stereo mic to pick up audio.
The camera uses an APS-C-sized CMOS sensor and is compatible with more than 60 Canon EF and EF-S lenses. Other features include a new built-in "Dual Axis Electronic Level" which produces an artificial horizon over the image on the rear LCD screen in Live View or in the viewfinder using illuminated AF points to help level your shot. The pop-up flash sports a built-in Integrated Speedlite Transmitter, to control multiple EOS Speedlites without having to use an external transmitter — helpful for studio and wedding photographers working with multiple flash setups, for example.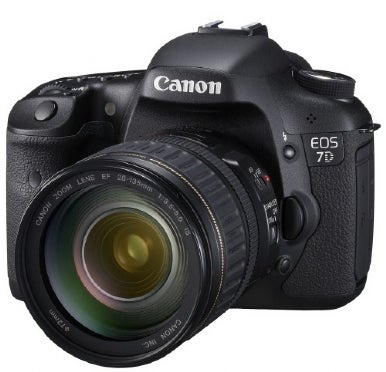 The EOS 7D has a RAW/JPEG toggle button so photographers can more easily add large JPEG or raw file formats to their shooting modes, and a 3.0-inch LCD screen with 920,000 dot resolution. The shutter is rated at 150,000 cycles.
New wireless transmitter
Canon has also announced an exclusive new peripheral designed to work with the EOS 7D — the WFT-E5A, a wireless transmitter that connects the camera to a Wi-Fi network operating on 802.11a, b, or g frequencies. It also works tethered to an Ethernet network. The device allows photographers to fire up to 10 cameras simultaneously, controlling the cameras from a laptop or smartphone. The transmitter is also DLNA-compatible, making it work with compatible televisions, photo frames and other home entertainment devices.
New lenses
Canon used the occasion of a new DSLR introduction to also introduce three new EF and EF-S lenses for users of its APS-C-equipped digital SLR cameras.
The EF 100mm f/2.8L Macro IS ISM lens is Canon's first to feature "Hybrid Image Stabilization" (Hybrid IS) technology, which Canon says compensates for both angle camera shake and shift camera shake, up to four shutter speed steps. It ships at the end of September and will cost $1,049.
The EF-S 18-135mm f/3.5-5.6 IS features shake correction up to four shutter speed steps, and is the equivalent of a 29-216mm lens on a full-frame camera. It goes on sale at the end of September for $500.
The EF-S 15-85mm f/3.5-5.6 IS USM is a multipurpose wide-angle zoom that has three aspherical elements and one UD glass element. It is the equivalent to a 24-136mm zoom on a full-frame camera. It's coming in late October for $800.