Oranged Software has released Studiometry 7, a new version of its business management software for Mac OS X and Windows. It costs $199, or $59 to upgrade from Studiometry 6.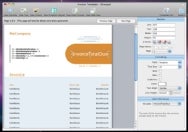 Studiometry helps you manage contacts, bill clients, track work, generate estimates and more. It produces customizable reports, invoices and estimates, supports single and multi-user input, can synchronize with Address Book and iCal, and will soon sport an iPhone app companion.
New in Studiometry 7 are 150 new features, updates, and improvements. The main window interface is now easier to use and features resizable controls and window columns; invoices and reports can be previewed as you edit them; the new Project Stages feature makes it easier to plan and track projects; and an Estimate Wizard lets you create itemized estimates.
Groups lets you manage and sort clients and projects; notifications tell you what's happening on the Studiometry network; watch lists can help you track items that you work with more frequently than others; and more.