Editor's Note: The following article is reprinted from PCWorld.com.
The only thing better than cool iPhone apps? Free iPhone apps. Of course, the App Store doesn't do a particularly good job highlighting the freebies. This week I've got a Web site that alerts you to newly free iPhone apps, a service that lets you exchange electronic business cards via phone, and a few ways to locate iTunes' weekly freebies.
Find free apps for your iPhone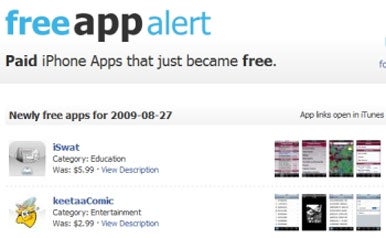 FreeAppAlert catalogs all newly free iPhone apps. The site (a must-bookmark for iPhone and iPod touch owners) lists an updated-daily collection of each newly free app along with its former price tag and one or more thumbnail screenshots.
When you mouse over a thumbnail, the full-size version of the screenshot appears immediately—a nice alternative to clicking all the way through to the App Store just to see what an app looks like.
Likewise, you can show or hide an application's description by clicking View Description; no need to leave the page.
FreeAppAlert has a Twitter feed; you can also become a fan on Facebook and subscribe to an RSS feed.
Bottom line: If you like free apps, you'll like FreeAppAlert.
Use your cell phone to exchange business cards
Hey, remember business cards? I know, those went out with floppy disks, right? And yet there's still a need to swap contact info with people you meet at business events, airport bars, and so on. Enter Dropcard, which uses your cell phone and text messaging to deliver the digital equivalent of a business card. Here's how it works.
Let's say you meet someone at a trade show. Instead of handing over your business card, which, let's face it, will probably get thrown away or forgotten, just ask for the person's e-mail address.
On your phone, create a new text message addressed to 77950. In the body, enter the person's e-mail. Hit Send and you're done! Your new compadre will receive an e-mail containing your contact info, IM addresses, Web sites, social-network links, and so on. You can tailor your Dropcard profile to your liking, meaning you can include as much or as little contact info as you like. I particularly like the inclusion of a VCF attachment, as it allows the recipient to quickly create a new Outlook record.
Dropcard is free, but there's a premium version of the service ($4.99 monthly) that lets you attach a logos, images, files, and/or documents to your "cards" and gather statistics on them. But most people will get by just fine on the free version. It's an undeniably handy way to dispense with old-fangled business cards
Find the latest iTunes freebies
Most iTunes users know that roughly once a week, Apple offers a few new freebies: music, TV shows, video clips, and even the occasional audiobook. Of course, short of loading iTunes every day and poking around various areas of the Store, there's no easy way to find the free stuff.
Actually, if you start iTunes, head to the Store, and scroll down a bit, you'll find a "Free on iTunes" section. But I find this a bit confusing, as it lumps everything together. Plus, you still have to run iTunes to access it.
That's why I'm a fan of these three iTunes-freebie aggregators:
The Free iTunes Downloads blog posts full descriptions of each and every iTunes freebie, and it's updated as new items become available. Great choice to add to your RSS feed reader.
Get Free iTunes Store Downloads gives you just the links without lengthy descriptions. The site organizes the downloads by category: songs, TV shows, short videos, and so on.
The Free iTunes Downloads gadget is a must-have for iGoogle users. This home-page gadget lists all the latest freebies, and you can sort them by category.
[Rick Broida writes PC World's Hassle-Free PC blog. Sign up to have Rick's newsletter e-mailed to you each week.]