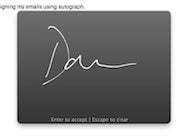 Despite living in a mostly digital world, every once in a while we have to veer back into the analog. How many times have you been presented with a form you have to print-out, sign, then scan or fax back to somebody? Sure, in some cases you can use a digital signature, but more often than not, that's not even an option. Ten One Design's nifty new app, Autograph, aims to solve that problem.
Snow Leopard lets you enter Chinese characters by drawing them on your MacBook's trackpad; Autograph leverages that trick to let you scrawl your own signature the same way. The program runs in the menu bar and can be summoned via a hot key, at which point a translucent window pops up. Trace a finger on your trackpad and you'll see your writing appear as if by dastardly black magic. Of course, writing with your finger isn't how most of us sign things, so it might come out looking like your cat Mr. Fluffy has been trying to navigate to Cute Overload again.
Regardless of whether your signature looks like John Hancock's or Trapper John, M.D.'s, you can go ahead and paste the result in any application of your choice—if you're using a compatible application, like Mail, Autograph will go ahead and paste it for you. You can choose the color of the final result as well as how large the image is.
In order to use Autograph you'll need a compatible MacBook (one of the unibody models) and, of course, Snow Leopard. A free trial is available, although it inserts a watermark when you paste it in; the full version costs $7.
[via TUAW]