If you place an audio file onto a slide in Keynote, it will appear as a 53×53 pixel version of the OS X menu bar's Sound icon. Assuming you don't change the audio settings for the placed audio file, the audio file will start to play when you reach that slide when you give your presentation. But what if you want more control over the audio playback, much like what you get with movie files, which appear with a position slider, playback and volume controls? It turns out you can get those same controls on your audio files as well.
All you need to do is make the placed audio icon larger, then move your mouse into that larger region while in presentation playback mode. (The controller is not visible while editing your presentation.)
As the size of the audio icon increases, you'll see more and more control options when you hover over the region in presentation mode. Once you reach 400 pixels in size, you'll see all the same controller features you get with a QuickTime movie: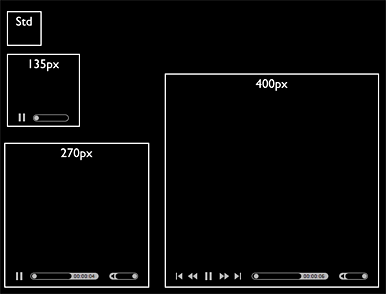 Note that when you're in edit mode, you'll see an increasingly-large version of the Sound icon as you increase its size. As with the standard-sized icon, though, this icon will not appear in presentation mode. To access the audio playback controls while in presentation mode, just move your mouse into the region of the large icon, and the controller will appear.
I'm not sure how often I'll need this feature, but it's nice to know it is possible to get audio playback controls with placed audio files in Keynote—thanks to Mac OS X Hints reader s.chrisotph for pointing this one out.