As Macworld's Gems columnist, I get many pitches from developers asking me to take a look at their software. Some of these products turn out to be great, while others…not so much. But it's not always immediately clear which is which: every now and then there's something that at first glance seems gimmicky, but turns out to be clever or useful.
That's the case with Read Right, a PDF reader designed for laptops and other smaller screens. When you open a PDF in Read Right, the document is automatically rotated 90 degrees, scaled to fit the screen, and presented in full-screen mode—you rotate your laptop so you're holding it like a book. The idea behind Read Right is that most current laptop screens use a widescreen aspect ratio, and most documents are taller than they are wide, so you'll get the best reading experience—without all the up-and-down scrolling—if your PDFs are oriented to match your screen.
I didn't think much of the idea initially; after all, if you're open to reading documents sideways, Mac OS X's own Preview can rotate PDFs and lets you zoom documents to better fit a screen. But when I finally tried Read Right, I was pleasantly surprised. The auto-scale feature works well, the full-screen approach lets you focus on whatever you're reading, and the overall feel is much more like reading a book than the standard way of reading PDFs on your MacBook's screen. You can even invert the colors of the document for white-on-black reading, and you can navigate your document using keys, the trackpad button, or the trackpad itself.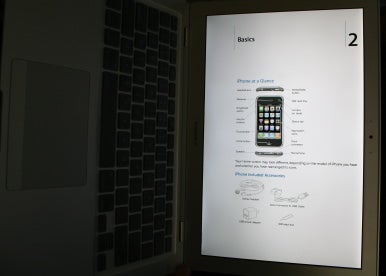 Preview can approximate some of this functionality, but it requires tweaks and adjustments just to get started reading, and you don't get the distraction-free full-screen mode or the color-inversion feature. In addition, Read Right remembers the specific zoom level, and which page you were last reading, for each PDF. (There's a limitation to this feature, though: If you move or rename a document, Read Right forgets the settings for that file.)
Pressing Control+Space while in Read Right shows an onscreen display of navigation controls; for example, the up and down arrow keys—which are oriented horizontally when your laptop is rotated for reading—skip between pages, Return flips the document 180 degrees so you can choose if the "page" is on the left or right, and holding down the Option key while sliding two fingers across the trackpad (the "scroll" action) zooms in and out.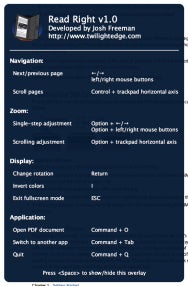 However, the initial version of Read Right has some bugs, most of them relating to the controls. Actions involving the trackpad's scroll gesture—skimming through a document and custom zooming, for example—are frustratingly jumpy; sometimes nothing happens, while other times you zip forward 20 pages or you change the zoom level dramatically. The other issue I had, while testing Read Right on a MacBook Air, was that a number of the keyboard controls were different from what the on-screen help noted. For example, the program claims that the Space bar shows and hides the help screen, but for me it actually advanced the document to the next page (in my testing, Control+Space toggled the help screen).
Even with these issues, though, I enjoyed using Read Right, and I'm looking forward to future updates and improvements.
Want to stay up to date with the latest Gems? Sign up for the Mac Gems newsletter for a weekly e-mail summary of Gems reviews sent directly to your Inbox.