Microsoft Exchange is the most common groupware server for businesses, allowing workers to share calendars, contacts, and e-mail. But connecting to an Exchange server from a Mac has historically been problematic.
Microsoft Outlook 2001 was an excellent Mac client for Exchange. But it was replaced by Entourage, which supported Exchange too, but not as well. Microsoft says it will include a new version of Outlook in the next edition of Office; how well it will support Exchange obviously remains to be seen.
Meanwhile, Apple has released Snow Leopard which, among other new features, includes built-in support for Exchange 2007. That means you can sync iCal, Address Book, and Mail with Microsoft Exchange 2007 servers, without needing any third-party apps, conduits or messy workarounds.
In fact, when it comes to Exchange-compatibility, Apple does a better job than Microsoft itself: Snow Leopard supports Exchange right out of the box; you don't need to install Microsoft Office. Previous versions of Exchange included client access licenses for Outlook and Entourage, but Exchange 2007 does not. So while Windows users now need to purchase Exchange clients, Mac users can get a free ride.
That said, Snow Leopard's support does not extend to older versions of Exchange. The minimum version supported is Update Rollup 4 for Exchange Server 2007 Service Pack 1 or later. If your Exchange administrator hasn't been keeping up with updates, he or she may need to be nudged to patch your server with the supported minimum.
Configuration
The easiest way to connect Snow Leopard's versions of Mail, iCal and Address Book to an Exchange account is with Exchange 2007's Autodiscover feature. For that to work, your Exchange administrator needs to enable Autodiscover. That done, you can open the accounts pane in Mail and enter your Exchange e-mail address and password, and your server information will automatically be discovered. Unless you deliberately clear the checkboxes for automatically setting up Address Book contacts and iCal calendars, these will be configured using the same settings.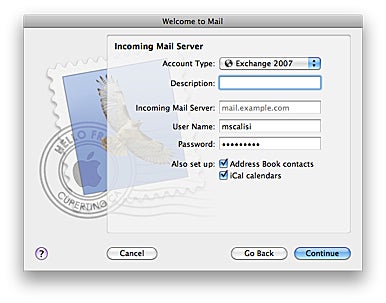 If Autodiscover is not enabled on your Exchange server, don't fret; you can just enter the name of your Exchange server manually.
I was pleased to find that the configuration worked over both a corporate network and the Internet. Since both my internal and external DNS settings pointed to the same server name, Mail worked seamlessly through the SSL port (which is usually configured by a network administrator setting up Outlook Web Access). If your server has different names for internal and external connectivity, you can specify them by going to Mail -> Preferences -> Accounts, selecting the Advanced tab on your Exchange account, and entering the correct server names.
The apps
Once I'd connected to the Exchange server, I started testing it by setting up a meeting in iCal and inviting people from my organization to it. iCal was able to use the Free/Busy information from the Exchange server to determine invitees' availability. It also was able to suggest the next available time-slot when all those invitees were available. It's very slick and simple. You can also maintain personal calendars on your desktop, alongside those in Exchange.
Mail and Address Book also just work. On launching the latter, you'll notice your Exchange contacts and an icon to search the global address book. One nice feature here: Smart Groups can mix contacts from both corporate and personal address books. Of course iCal and Mail can both use these Address Book entries for auto-completion when sending e-mail or meeting invitations.
That said, Apple's Exchange-friendly apps are not always the equals of Microsoft Outlook. For instance, there's no simple way to set an out-of-office message that runs on the Exchange server. The workaround: log in to Outlook Web Access (OWA, which replicates Outlook functionality in a Web browser) and, under Options, locate the Out of Office Assistant.
Another complaint: While Mail supports client-side rules, it doesn't let you configure server-side rules in Exchange. Such server-based rules are nice, because they don't require your Mail client to be running to work. Unfortunately, the Mac-compatible "light" version of OWA also omits this feature. In order to set server-side rules, you need to use Outlook itself or Internet Explorer 6.0 (or higher) on a PC to log into the "premium" version of OWA.
You'll also likely notice a difference between Exchange e-mail using Outlook compared to Mail. When you're connected to Exchange via Outlook, messages sent to you by co-workers appear almost immediately. That makes sense, since your co-worker's and your own mailboxes are probably sitting on the same server; a native MAPI (Microsoft's mail API) mail client like Outlook will pick it up within seconds of it being sent.
By comparison, Apple's Mail app defaults to checking the server every five minutes. You can make that more frequent (as often as once a minute), but it'll still be slower than Outlook. That delay may not be an issue for most people, but it might be annoying if you're accustomed to Outlook's immediacy.
The bottom line
Those quibbles noted, Mail also gives you some features—including Smart Folders and message threading—that you won't find in Outlook. Overall, I think Snow Leopard's apps deliver the essential Exchange features, and should allow Mac users to feel perfectly at home in a corporate Exchange environment.
Michael Scalisi writes the Net Work blog for pcworld.com.