Three months after adding live video to its iPhone app, Major League Baseball has made another change that's sure to please fans eager to follow the pennant races. MLB.com At Bat 2009 now gives users the option of watching all games live—albeit at a cost.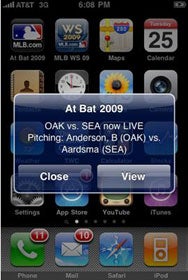 Developer MLB.com said Tuesday that At Bat users have the option to watch any out-of-market game for 99 cents. Previously, MLB At Bat users had the option of watching up to two live games on their iPhone or iPod touch each day for free. Those two free games remain under the Version 1.4 update rolled out Tuesday, but now users can pay the additional fee to watch any of the other games on the schedule for that evening. (As always, blackout restrictions apply. As a Bay Area resident, for example, I wouldn't be able to pay to watch this evening's A's-Royals tilt being played just across the waterway in Oakland, though the way those teams are going this season, they're the ones who should be paying me to watch.) Note that MLB Premium Video members get access to every game live; that service costs $19.95 for the rest of the season.
The ability to pay for additional live feeds of games is made possible via the in-app purchases capability Apple added to its iPhone SDK for version 3.0 of the phone's operating system. When Apple first demonstrated the in-app purchasing capability back in March, the assumption was the feature would largely benefit e-book publishers and game makers, who would be able to use it to see add-ons and extras to iPhone and iPod touch users. Clearly, MLB.com figured out that in-app purchases would work for its app as well.
The in-app purchase capability isn't the only iPhone 3.0-friendly feature added in Version 1.4 of MLB At Bat. The app also offers push notifications, which can be set to tell users when games have started and when they're finished.
MLB At Bat 2009 continues to offer live audio without any blackout restrictions as well as real-time video highlights, updated scores, short-form video recaps, and MLB.com Gameday functionality. Video streaming works over Wi-Fi or a cellular connection. The app sells for $10 and requires the iPhone OS 3.0 update.