C:four has released iStudio Publisher 1.1, the latest upgrade of its design and desktop publishing software. iStudio Publisher is a Mac-based application aimed at general consumers who want to create professionally styled documents. Instead of intensive application training, users can learn the essentials of iStudio Publisher via online videos and program help files, the company says.
iStudio Publisher 1.1 features a new image manipulation tool and an improved image inspector palette that gives users more control over document images. Users can now size, position, and rotate images within their containing shapes, so they can focus on the part of the image that matters to them. Users can still add text inside and around a shape and a shape with an image in it at the same time, along with gradient fills and drop shadows.
The new version also features streamlined menus and keyboard shortcuts to make it easier for users to find the tools they need, without having pop-ups or palettes scattered across the interface. These new features join the recently released Multi-Line HUD tool.
iStudio Publisher is available at the company's Web site for $50. It requires Mac OS X 10.4.11 or later, an Intel processor, PowerPC G5, or 500 MHz or faster PowerPC G4, 512MB of RAM, 32MB of video RAM and 100MB of available disk space.—Jackie Dove
SneakPeek Photo adds image data to Quick Look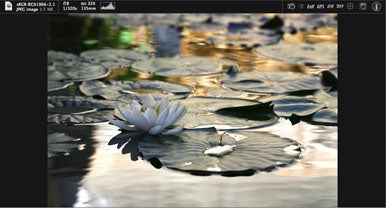 Code Line released a plug-in for OS X's Quick Look preview feature that gives photographers detailed information about each digital image. The SneakPeek Photo plug-in provides file type, size, f-stop, focal length, and color profile data as well as access to an image's metadata.
With SneakPeek Photo, users click on the photo and hit the space bar; a pop-up of the image appears, along with a toolbar containing data about the image as well as a mini histogram.
The plug-in costs $10 with a free 15-day trial. SneakPeek Photo runs on OS X 10.5 and later.—Philip Michaels
More Snow Leopard updates
The parade of software updates adding Snow Leopard compatibility continued Tuesday, as makers of video effects, file transfer, note-taking, and movie database applications announced updates that work with the newly-released Mac OS X 10.6 update.
Boris FX says its entire line of integrated effects for video and film have been updated to add Snow Leopard compatibility. Updates include Boris Continuum Complete 6.0.4 FXPlug; Boris Continuum Complete 6.0.3 AE; all Boris Continuum Units; Final Effects Complete 5.0.2 FxPlug; Final Effects Complete 5.0.1 AE; Boris Red 4.3.4; Boris FX 9.3.4, and Boris Graffiti 5.3.4.
Fetch, the file transfer program from Fetch Softworks, adds full Snow Leopard compatibility with version 5.5.2. The update also improves the Quick Look feature introduced in Version 5, while adding a View as Text command and SOCKS support for SFTP connections.
The latest version of Pear Note adds full functionality under OS X 10.6 to the note-taking utility from Useful Fruit Software. Pear Note 1.3.1 also fixes issues that prevented PowerPoint or Keynote slides from being imported into Pear Note documents when running Snow Leopard. The app's video recording features are also improved, as Pear Note 1.3.1 takes advantage of new features introduced in QuickTime X.
Finally, KavaSoft said its KavaMovies movie database for organizing movies you've seen, own, and want to see is now 64-bit optimized. In addition, KavaMovies 1.4 features improved interface performance and database access under OS X 10.6, according to the developer.—PM
Wipe erases data from Mac hard drives
Stellar Information Systems introduced Wipe this week. The application permanently erases all data from a Mac's hard drive, so that any personal data is removed before you sell, donate, or get rid of your computer.
The application wipes files and folders individually. It also wipes system traces such as access logs, install logs, and console logs. Wipe also removes data from Web browsers as well as unused hard disk space.
Wipe costs $39 for a single-user license. The software runs on OS X 10.4 or later.—PM