Originally developed for other mobile phones, Wolfenstein RPG has found its way to the iPhone and iPod touch with upgraded graphics and controls. This first-person role-playing game from id Software by way of Electronic Arts has all the makings of a great game with a humorous twist. In between slaying bad guys and freeing prisoners, you find yourself booting mutant chickens across the room or punching the heads off skeletons.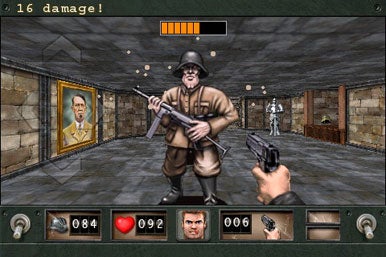 As the elite forces hero BJ Blazkowicz, you kick, punch, and blast your way through Castle Wolfenstein to save the world from the evil—and apparently mutated—Axis Army. Along the way you talk to prisoners, interrogate scientists, and read clipboards to unravel the game's plot—all the while fighting zombies, elite forces, mutant bosses, and more.
Though the words "RPG" are in the title, Wolfenstein RPG isn't a hard-core role playing game. It's more of a turn-based action game with RPG elements like leveling up and boosting your attributes. Being a turn-based game means when you fight enemies, each action—taking a step, using a health pack, or firing a weapon—takes one turn; then the enemy takes his turn before you can act again. Some people will find this style of play a little stiff, but I actually found it quite enjoyable.
There are many kinds of weapons in Wolfenstein RPG, from handguns and flame throwers to dynamite and machine guns. If that's not really your style, you can always throw up your dukes and punch the bad guys in the face, kick 'em in the stomach, or just rip a toilet out of the floor and break it over their heads.
Almost every object in the game is interactive. Smashing a box to pieces with a swift boot often reveals hidden health packs, ammo, and other helpful supplies. Other than the normal items, you'll also find syringes used by the Axis Army to inject experimental chemicals into the prisoners. At one of their mixing stations, you can combine these chemicals to create your own cocktails that temporarily boost stats or give you new abilities like regeneration and fire resistance.
Aside from the main quest, Wolfenstein RPG also has two mini games—Chicken Kicking and War. In Chicken Kicking, you kick chickens at a target, while War is a classic card game of chance. These mini games offer a nice diversion from the main game and add to the replay value.
The game features a pretty straight-forward interface with easy-to-use buttons along the bottom of the screen for switching weapons, pulling up a map or accessing your inventory. A virtual D-Pad is used to maneuver around while tapping the screen lets you interact with objects or fire at enemies.
While the graphics in Wolfenstein RPG aren't mind blowing, they're well suited to the game and look good. The sound effects of explosions, gunfire, and squawking chickens are done nicely adding to the overall experience.
With around eight hours of play, nine levels, 16 weapons and 32 different enemies, Wolfenstein proves to be worth its current $3 asking price. So, if a turn-based action game sprinkled with some RPG elements and a sense of humor sounds like fun to you, you should give this game a try.
Wolfenstein RPG is compatible with any iPhone or iPod touch running the iPhone 2.2.1 software update.
[Tim Mercer is a technology enthusiast, graphic designer, and blogger, whose blog, digital-artist-toolbox.com, offers free resources to the digital artist and graphic designer.]