Panasonic on Wednesday announced its Lumix DMC-GF1 digital camera. The new camera is coming in October for $900.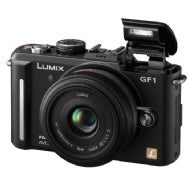 The DMC-GF1 is a new Micro Four Thirds camera — a DSLR-like camera with interchangeable lenses, but one lacking the pentaprism and mirror found in actual DSLRs, making it possible to make the body smaller and more compact.
The DMC-GF1 features a 12-megapixel sensor and the ability to record 1280 x 720 High Definition video using the AVCHD Lite format. It can also record Motion JPEG in 1280 x 720 and other video recording formats.
Other features of the camera include seven preset effects in its "My Color" mode, which let users set the color, brightness and saturation levels of their shots; Intelligent Auto mode, which stabilizes video, and manages face recognition, auto-focus, ISO, exposure, and other factors when shooting still images.
The DMC-GF1 sports a built-in flash and 3.0-inch LCD display with 460,000-dot resolution and wide viewing angle. Images are written to an SD or SDHC memory card, and a dust reduction system is built-in.
The DMC-GF1 will bow in two kits, both priced at $900. One bundles the Lumix G 29mm/F1.7 ASPH, a "pancake" lens; the other includes the Lumix G Vario 14-45mm/F3.5-5.6 ASPH/Mega O.I.S. lens. An optional Live View Finder will be available for $200. Lens adapters priced at $250 let DMC-GF1 users use Leica lenses.