At a glance
Expert's Rating
Pros
Lightweight
Good compatibility with Apple and other devices
3.5mm and USB-C audio input
Excellent battery life
Clean and balanced audio
Cons
Headband is a little stiff
No ear detection
Our Verdict
Even if they weren't $200 cheaper, we'd recommend these over the AirPods Max. The lack of ear detection is a bummer, but Beats Studio Pro delivers betters sound, battery life, controls, and compatibility, and they weigh a lot less, too.
Price When Reviewed
$349.99
Best Prices Today: Beats Studio Pro
Some of Apple's best AirPods aren't AirPods, they're Beats. The company's other headphone brand regularly breaks out products with nearly all the same features and technology as AirPods but with better style, compatibility, and pricing.
If you're in the market for a set of over-the-ear headphones and considering AirPods Max, you now have a better option. The new Beats Studio Pro may not be made of aluminum and steel with a fancy mesh headband, but they cost $200 less and deliver better sound, broader compatibility, and most of the important AirPods features. Oh, and they come with a real carrying case.
Excellent Apple (and Android) support
The main reason to get AirPods over other headphones is their seamless integration with your Apple ecosystem. They pair just by holding them near your iPhone, switch easily to your Mac or iPad, and you can change settings and get firmware updates within Settings instead of requiring a separate app.
The new Beats Studio Pro do almost all your favorite AirPods stuff. One-touch pairing, iCloud pairing (but not instant switching), Handoff to Apple Watch, hands-free "Hey Siri" support, and Find My support.
On your iPhone, iPad, or Mac, they're treated just like the first-party Apple product they are. You get native iOS connection indications, widgets, and indicators, noise cancelling and spatial audio controls Control Center, and you'll find all the settings in…er… Settings.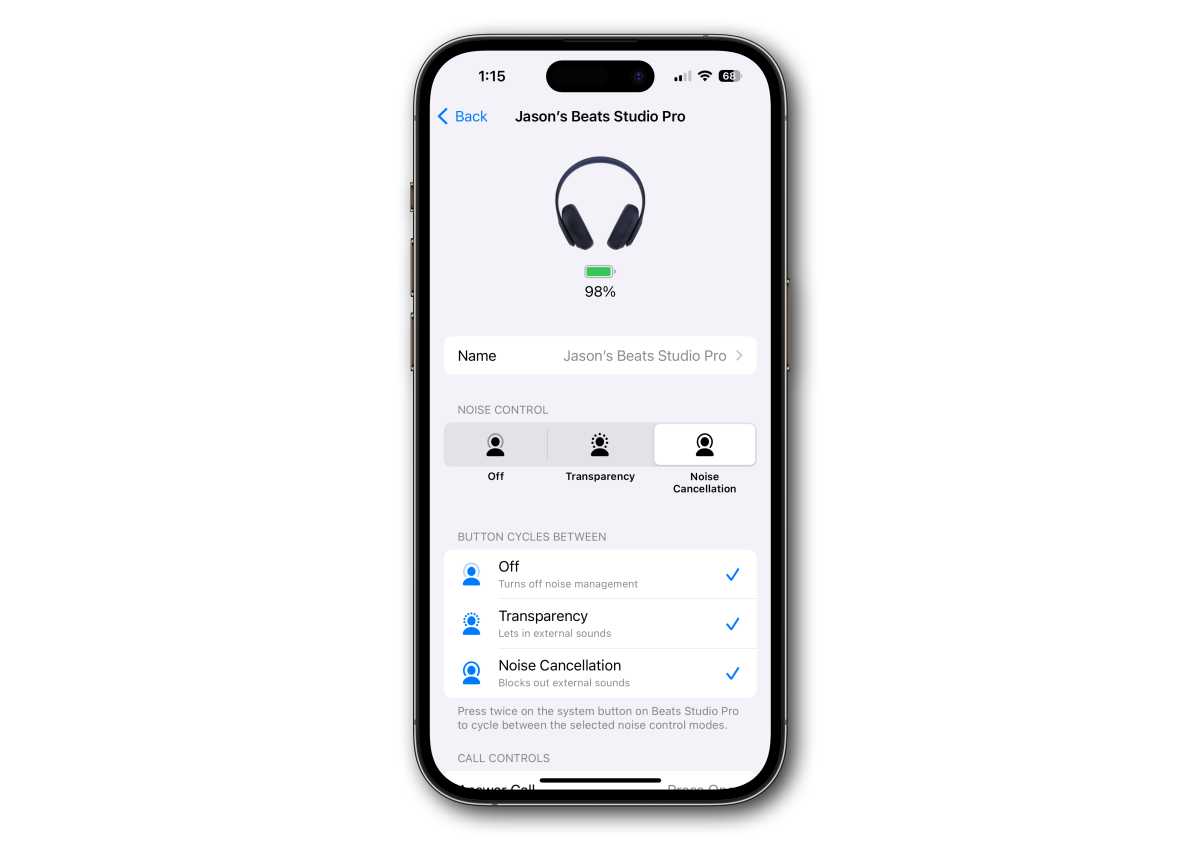 Foundry
They even support personalized Spatial Audio and head tracking. The only feature you'll really miss is ear detection. Beats Studio Pro don't stop playing as soon as you take them off and resume as you put them on, and you've got to press the power button for a couple seconds to turn them on or off.
These don't use Apple's H-series headphone chips like some Beats products do. Instead, they use the a proprietary Beats processor which allows them to more easily support Android features like one-touch pairing, audio switching, and Find My Device.
Familiar design, familiar features
Visually, the Beats Studio Pro look almost just like the popular Beats Studio 3 headphones. Unfortunately, they feel like them too. They're not uncomfortable per se, but the ear cushions don't have that same soft velvety feel of AirPods Max, and the headband is much stiffer.
On the other hand, they're noticeably lighter. Sitting perfectly still, AirPods Max feel better. But if you move your head around you'll instantly appreciate that, at 260 grams, the Beats are a third lighter than the 384-gram AirPods Max.
I have a particularly small head and often find popular headphones are just a few millimeters too large for me even at their smallest size setting; this is true of the Beats Studio Pro as well. This puts them just barely on the edge of uncomfortable for me, which is how I find AirPods Max and most other popular headphones. Unless you happen to have a tiny head too, you'll probably find they're just a little more comfortable than the old Beats Studio 3, but the headband and ear cushions could use a little improvement.
Foundry
The left ear hosts nicely integrated physical controls. The "b" logo is a button used for standard play/pause/advance/back control. Press above the logo to increase volume and below it to lower volume. Beneath that you'll find a standard headphone jack. Yes, analog audio input is fully supported without any dongles or adapters, and it even comes with a (short) cable to do so. Take that, AirPods Max!
On the right you'll find a small button used to power on or off the headphones, enter pairing mode, or double-click to change noise cancelling modes. Beneath that, a USB-C port for charging. You get about 4 hours playback time with a 10 minute charge and a full charge takes around 2 hours. Beats claims 40 hours of battery life with ANC off and 24 hours with ANC on, roughly 20 percent better than AirPods Max. In my testing, that seemed to be about right.
The USB-C port on the right is for more than charging, though. You can also plug this USB-C cable into any supported audio source for audio input. The built-in DAC supports hi-res and lossless audio up to 24-bit/48KHz, and the headphone's mic even shows up as a mic input on your Mac or PC (though the quality is not up to the standard of a good dedicated headset).
Foundry
Noise cancelling is not supported in USB-C wired mode. Instead, the power button cycles between three audio profiles: "Signature" for balanced audio, "Entertainment" for movies and games, or "Conversation" to boost voice for calls or podcasts.
And yes, just like Beats Studio 3, these fold up to more easily fit in your bag. They come with a real carrying case, and both USB-C and 3.5mm headphone cables, but no power adapter.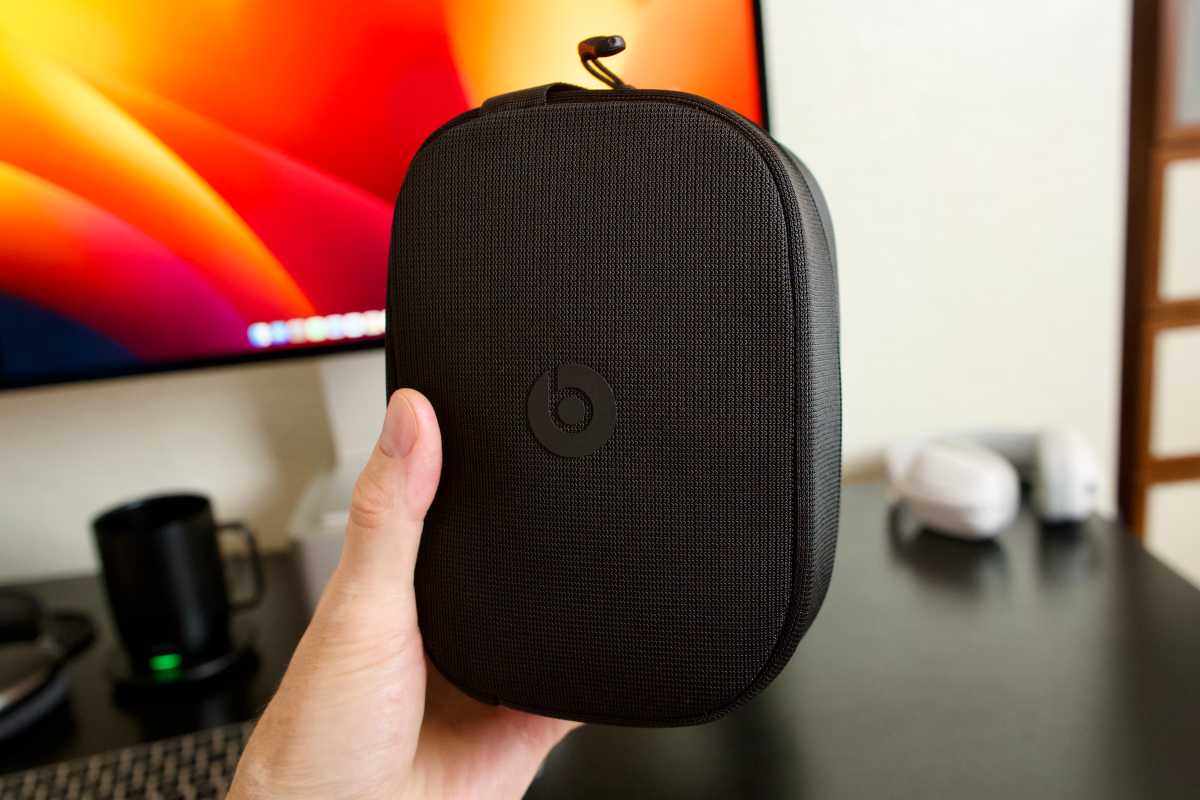 Foundry
Improved audio
It has been over five years since the Beats Studio 3 hit the market, and you'd expect substantial sound quality improvements in its replacement. Fortunately, the Beats Studio Pro sound really good.
Beats likes to market a lot of numbers that, as a listener, I have no idea how to actually quantify. They feature brand-new 40mm drivers with "a precise array of micro-vents and fine acoustic mesh to optimize airflow and minimize distortion. Providing a total harmonic distortion of .02 percent even at high volumes." This is an 80 percent improvement over Beats Studio 3.
That all sounds like so much marketing technobabble to me, but these do sound quite great for a pair of cans in the sub-$500 price range. The low end has as much clarity and punch as AirPods Max, but the high frequencies are noticeably crisper. I never though snaps and hi-hats sounded muddy on AirPods Max, but putting them on directly after the Beats Studio Pro gives that impression.
The adaptive noise cancelling quality is excellent, though I think the transparency mode lags behind the 2nd-gen AirPods Pro a little bit. Importantly, the tone of the sound doesn't get altered as you switch between regular, noise cancelling, and transparency modes.
A great choice for Apple fans
There are certainly plenty of great noise-cancelling headphones to choose from these days. I'm not sure if the Beats Studio Pro sound better and have more compelling features than the Sony WH-1000XM5, for example, but they're almost certainly a better choice for the Apple enthusiast thanks to their very AirPods-like integration in the ecosystem.
These are a lot easier to recommend than AirPods Max. They offer better sound quality overall, and while the padding isn't as comfortable, the lighter weight makes them easier to walk around with. They fold up, come with a real carry case, have an analog 3.5mm input, charge and play audio through USB-C, and offer superior battery life.
Sure, all that metal and mesh on the AirPods Max gives them a super-premium feel you won't find here and do I miss having ear detection, but even if the AirPods Max dropped $200, I'd still choose Beats Studio Pro.
Best Prices Today: Beats Studio Pro