Birdpost is the iPhone companion to Birdpost.com, a Web site where you and others can report and share bird sightings. It's a great idea, but unfortunately the iPhone app from Foglight Group rarely lives up to expectations.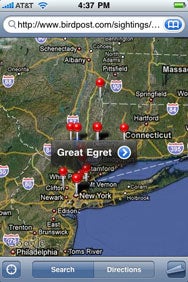 Open Birdpost on your iPhone, and you'll be asked to choose a date range and mileage radius within which you'd like to see recent bird sightings. Or you can use Birdpost to post your own sightings to Birdpost.com. Birdpost displays sightings using Google Maps, but isn't updated to use the integrated maps capabilities introduced in the iPhone 3.0 update, so every search means a schlep out to the iPhone's map app.
Birdpost does use an integrated map when you report sightings, finding your current location and letting you you tap the screen near where you've seen a bird. This did not work as well as I would have liked, however, as the map did not scroll around on the screen smoothly. Also, because Birdpost only focuses on your current location, reporting birds that you've seen somewhere else is nearly impossible.
Birdpost's biggest and most debilitating limitation is its dearth of data. This app, and the related Web site, depend on sighting reports from other Birdpost.com users. In the area where I live, almost 60 miles north of Manhattan, I found no sightings but my own within a 10-mile radius of where I live and only 3 others within a 25-mile radius. At 50 miles I started seeing more, almost all in Manhattan, the vast majority of which were within Central Park. And this highlights the real, present weakness of Birdpost. Unless you live in a major metropolitan area, there simply aren't yet enough people using Birdpost.com or the Birdpost app to make it a valuable resource for finding birds right where you are.
Birdpost is compatible with any iPhone running the iPhone 2.2.1 software update.
[Jeffery Battersby is a writer and net admin living in upstate New York.]