A fine wine ages slowly and gracefully. A fine iPhone app should be graphically interesting, user friendly… and fast. With Wine Ph.D. for the iPhone and iPod touch, two out of three ain't bad.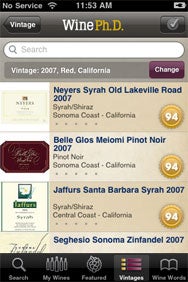 Perk Software's Wine Ph.D. offers recommendations and lets oenophiles catalog and note their favorite wines. Tracking your wines is easy with Wine Ph.D.'s extensive database. Simply enter the name of the winery and browse and select labels. Once you've found the wine you're looking for, add it to your cellar and enter details, including the bottle year, where you bought it and drank it, and how much you liked it. You can add flavor and food pairing tags as well. The app also includes a comprehensive glossary of wine terms to help newcomers penetrate the jargon.
Perhaps the best part of Wine Ph.D. is the vintage recommendation feature. So if you happen to be perusing a wine list at your favorite restaurant and the sommelier is indisposed, launch the app, tap Vintages, choose the wine's region, color (red, white or rosé), and year. The app will highlight which years were "excellent" or "good" for a broad category or varietal. (2007 was a great year for certain California reds and whites, for example.)
Trouble is, Wine Ph.D. is slow. Painfully slow, in fact. The app requires a 3G, EDGE, or Wi-Fi connection. You should restart your handheld after you install the app. It will take several minutes to update with the latest information when you first use Wine Ph.D. Even then, searches often drag and the vintage recommendations are slow to load.
That said, Wine Ph.D. compares somewhat favorably to Drync's Drync Wine ( ) and Drive Thru Interactive's Hello Vino app ( ). While both of those apps also aim to cultivate wine drinkers' tastes with expert advice and recommendations, they have smoother and speedier user interfaces. And Drync Wine also lets you keep close track of your favorite vintages. Bottoms up!
Wine Ph.D. is compatible with any iPhone or iPod touch running the iPhone 2.2.1 software update.
[Ben Boychuk is a columnist and freelance writer in Rialto, CA. Feel free to e-mail him.]