Logitech on Thursday announced two new additions to the company's Squeezebox line of wireless network music players: the Squeezebox Touch and the Squeezebox Radio. Both models let you listen to your (DRM-free) computer-hosted music, as well as Internet radio and subscription-music services, via an 802.11g wireless network.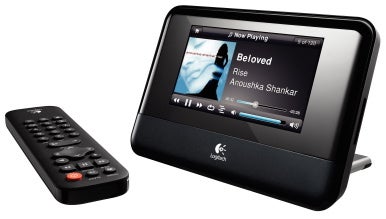 The $300 Squeezebox Touch is a enhanced version of the Squeezebox. Like the older model, the Touch is a wireless music device that lets you listen to digital audio through an existing audio system. But the new 4.3-inch touchscreen display shows full-color album art during playback and lets you, for the first time, use your fingers to navigate the player's onscreen menus and select music.
The Touch also offers improved audio specs, including support for sample rates of up to 24 bits at 96 kHz, and provides a USB port and an SD-card slot for accessing music and images stored on flash-memory devices. An optional ($100) bracket will be available for custom mounting the Squeezebox Touch on a wall and routing power and audio cables inside the wall.
The $200 Squeezebox Radio is similar to Logitech's $300 Squeezebox Boom in that it's a standalone, tabletop-radio-style system that includes its own amplifier and speaker. However, the less-expensive Radio differs from the Boom by including a single mono speaker, instead of left/right stereo speakers, and by providing a 4.3-inch, full-color screen for displaying album art, visualizers, menus, and information.
Like the Squeezebox Boom, the Squeezebox Radio includes a number of clock-radio features such as six presets for quick access to specific tracks, playlists, or Internet radio stations; a built-in alarm clock; a headphone jack; and a display that automatically adjusts its brightness based on the ambient light. The company says the single speaker provides quality audio thanks to a two-way (tweeter and woofer) design. An optional ($50) Accessory Pack includes an infrared remote control and a rechargeable battery pack that provides up to six hours of play.
Common to both new systems is a Facebook app that lets you share music and check out the status, recommendations, and photos of Facebook friends on the unit's color screen. You can also view Flickr-hosted slideshows.
The Squeezebox Touch and its optional wall-mount bracket will be available in the U.S. in December. The Squeezebox Radio is scheduled for release later this month, with the Accessory Pack available in November.