Konami Digital Entertainment—makers of Frogger, Metal Gear Solid Touch and other games for the iPhone and iPod touch—have announced the release of Krazy Kart Racers, a new $8 game available for download from the App Store.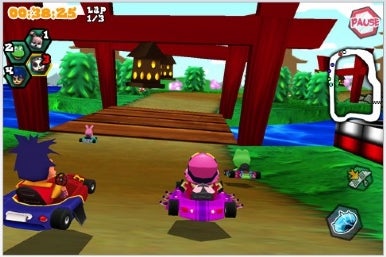 Krazy Kart Racers is a go-kart racing game featuring 16 different race tracks and 10 well-known Konami characters. There are five different single player modes as well as local and Internet-based multiplayer support for up to six players at a time.
As you speed around each track trying to get the fastest lap you can pick up nitro boosts, obstacles that slow down your opponents and other powerups. Each character sports different capabilities, too.
System requirements call for an iPhone or iPod touch running iPhone OS 2.0 or later.