The best iPhone apps perform a unique, powerful function that's hard to mimic. DocScanner, which portends to scan a document in the same way a flatbed scanner captures a document in high-resolution, does not exactly fit in this indispensable category.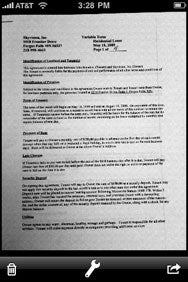 The major complaint: the $9 app from Norfello Oy does not really do anything beyond what the iPhone's built-in Camera app does. You snap a picture and can send it by e-mail. You can also configure the page size of scanned docs, and adjust brightness and contrast, or convert to grayscale. DocScanner does not convert documents to text, won't let you to edit the quality of a scan—to make the text characters look more readable, for example—and adds only a few extras beyond just snapping a picture.
One such extra is the ability to convert a document into PDF or JPEG, which you can then send by e-mail. File sizes run about 800K for a standard all-text document, such as a lease agreement. JotNot ( ), a similar app that only costs $5, creates slightly larger but much more readable docs.
In DocScanner, you can combine scans into one file, but only when you save them to the Camera roll, not DocScanner's built-in Documents folder, which is odd. You can edit the page size and trim documents to size by dragging thin purple cropping bars—but they are harder to use than JotNot's. When flipping through scanned images, DocScanner sometimes has a hard time moving to the next image—it's as though the current image gets stuck. A recent update adds the ability to zoom scanned documents, but the core problem with DocScanner remains—there's not enough here to compete with a desktop scanner.
I recommend skipping DocScanner and just using the iPhone camera to capture documents and send them by e-mail. You'll save some money and the results will look roughly the same.
DocScanner is compatible with any iPhone running the iPhone 3.0 software update.
[John Brandon is a 20-year veteran Mac user who used to run an all-Mac graphics department.]