Flood-It Pro, a $1 game from LabPixies with a free lite version, is an engaging tile-based puzzle game. Presented with a 12-by-12 grid sporting six colors of tiles, you need to work methodically to flood the entire game board with one solid color.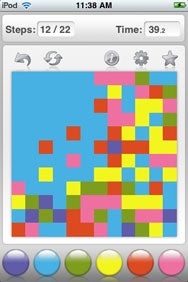 Flooding begins from the top left corner. Every time you tap a colored circle on the bottom of the screen, the top left color changes, as does every connected tile with the same original color. On each turn, an increasing percentage of the board takes on your last chosen color. You want to fill the entire board with one color in as few turns as possible.
It took me a few games to develop a strategy with any kind of ongoing success, but now that I've done so, the game is a nice mix of challenging and rewarding. It can be tough to fill the 12-by-12 grid in fewer than 22 turns, but when you realize you would just have needed one or two more turns, you're highly motivated to replay that board again.
You can customize your game board, choosing from different tile color sets and grid sizes (up to a massive 24-by-24).
The free version doesn't allow you to undo your last move or race against the clock; it also doesn't allow you to replay the same game board again if you fail to complete it the first time.
Overall, Flood-It Pro is a fun, quick game that works great as a time-waster when you have two minutes for a game.
Flood-It Pro is compatible with any iPhone or iPod touch running the iPhone 2.x software update.
[ Lex Friedman is a frequent Macworld contributor.]