Sprint will be the second operator in the U.S. to sell an Android phone, when it starts selling the HTC Hero on Oct. 11.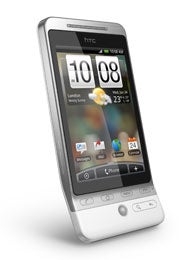 Widely praised by reviewers as well as users who can already buy it in Europe, the Hero could give Sprint a much-needed boost. This will mark the second recent attempt—following the sale of the Palm Pre—by Sprint to use an exclusive deal for an anticipated phone in hopes of stemming a long stretch of losses.
The Hero will cost $180 after an instant $50 rebate and a $100 mail-in rebate. Users will be required to sign up for an unlimited data plan with the phone. Those start at $70 a month up to $100 a month, depending on how many calling minutes and texts are included.
Like the two HTC Android phones currently sold by T-Mobile, the Hero will come preloaded with Google services, including Maps, Gmail and YouTube.
But more interesting to users and reviewers so far is a new user interface HTC calls Sense. It includes seven different home screens that users can customize and switch among by sliding home screen panels horizontally across the face of the phone.
The idea is that users can set up different home screens for different occasions. A work screen, for example, might include a stock update widget and a link to work e-mail and calendar. A travel screen could feature widgets for local weather, a maps application and a local time widget.
The Hero has a couple of other neat features too. By simply turning the device over, users can silence it. Pressing the search key pops up a search box that will automatically look for information only in the current application.
The phone comes with a 5.0-megapixel camera, camcorder, Wi-Fi, GPS, accelerometer, a microSD slot and a standard headphone jack. Users can receive corporate e-mail through Exchange Active Sync.
Sprint has been rapidly losing customers and money amid customer service issues. It's unclear if the launch of the Palm Pre in June has helped since neither Palm nor Sprint will say how many of the devices have sold. After a positive launch, analysts have recently said they think sales have slowed, dropping below the operator's expectations.
T-Mobile sold 1 million of its first Android phone, HTC's G1, in the first six months the phone went on sale. The operator has since launched a second Android phone, the MyTouch.
When Google announced its Android mobile operating system, Sprint was one of two nationwide operators to say it planned to offer Android phones.