At a Glance
Expert's Rating
Pros
Motion sensor
Excellent image quality
Wi-Fi enabled
Can e-mail pictures to the frame
Cons
Windows Live feature useless for Mac users
Bundled software is Windows only
Glass-covered frame quite reflective
Our Verdict
With its wooden frame, the SPX8WF looks like a traditional picture frame. Inside, however, the SPX8WF has 512MB of internal memory, and it has slots for SD, CompactFlash, MMC, xD, and MemoryStick memory cards, as well as a USB port for a flash drive.
Images on the SPX8WF's 800-by-600-pixel screen appeared with a slightly green cast if you looked with a keen eye. The frame unfortunately has no controls for adjusting the image quality, but overall, the image quality is excellent.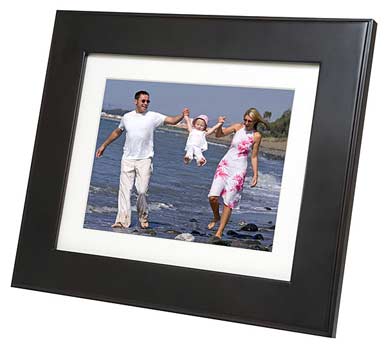 Wi-Fi networking is a nice feature to have in a digital photo frames, but there can be some limitations for Mac users. The Wi-Fi setup for the SPX8WF was pretty simple: It automatically scans for networks and then asks for the network key. If you have Windows, you can use the SPX8WF's Windows Live FrameIt feature to streams photos from your PC—obviously, this feature is useless for Mac-only users.
The SPX8WF has a nifty feature where you can send a photo to the frame as an e-mail attachment. Each frame has an e-mail address on the back, and when you send pictures to that address (20MB maximum file size), the e-mail goes to a Smartparts server, which then forwards it to the frame. You have to check e-mail manually by pressing the e-mail button on the included remote control. You also use the remote control to select e-mailed picture to appear on the frame. You can also listen to an MP3 or WMA soundtrack while viewing a slide show.
The frame comes with Smartparts software that automatically adjusts pictures so they appear properly on the frame, but the software is for Windows only.
The SPX8WF's motion sensor is an especially helpful feature. The frame goes into sleep mode when it doesn't detection any motion, and automatically turns back on fully when the motion sensor is triggered. This helps avoid wasting electricity as well as the frame's lifespan. The frame's software interface menus can be slow to respond. And occasionally, I ran into frame catatonia when the remote wasn't aimed directly at the sensor.
Macworld's buying advice
As a basic frame, the SPX8WF works and the picture quality is satisfying. But the Windows-only features will have many users looking elsewhere.
[Kathleen Cullen is a freelance contributor.]