If, like many iPhone and iPod touch owners, you also happen to be a Mac user, selecting which Mac is pretty straightforward since you can buy any computer you want as long as it comes from Apple. However, Apple has still managed to crank out hundreds of models over the years. How does even the most dedicated Mac fan keep them all straight?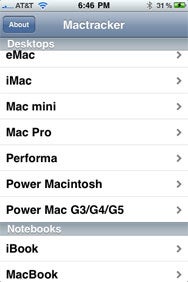 That's where Mactracker comes into play. The free app from Ian Page is the complete reference for every Macintosh every made.
Mactracker has been available for Mac OS and Windows for many years as a desktop application, but now you get most of the desktop functionality in a handy iPhone app. The iPhone app has information on all Macs divided into logical categories such as Classic Macintosh, iMac, and PowerBook. Select the category and locate the specific Mac within, and you have detailed information such as model number, dimensions, hardware configuration, compatible OS versions, and expansion options. You can even play the associated startup chime for each Mac.
In addition to the specifications for all the Mac models, you also get information on Apple TV, displays, iPhones, iPods, and most every other product that ever sported an Apple logo.
Fans of the desktop Mactracker might miss some of its cool features such as smart categories and the ability to store notes and keep records of Macs in your own collection. Unfortunately, also missing from the iPhone app are the beautiful icons depicting each of the models.
Mactracker comes in handy if you're a collector like myself or if you're in the market for a used Mac or other Apple hardware. You can quickly look up the specs and familiarize yourself with the model.
I'm hoping the developer adds the ability to flag models so users can quickly build their own inventory. That capability would certainly make the app much more of a tracker. However, it is hard to quibble when Mactracker is free and already a great resource. (The developer does solicit donations on his Web site if you're interested in contributing to the effort.)
Mactracker is compatible with any iPhone or iPod touch running iPhone 2.2.1 software update.
[James Savage is the host of the RetroMacCast a weekly podcast devoted to older Macintosh computers. He used the desktop Mactracker as a checklist to amass over 175 Macs—nearly every model ever made.]