One of the goals of Mac Gems is to find inexpensive software that makes Mac OS X even better—system tweaks and add-ons, productivity tools, and anything else that helps you get more out of your Mac. But as I've noted in the past, sometimes the features provided by third-party software are so useful that Apple decides they should be part of the OS itself. As a result, after every major new version of Mac OS X, I take a brief look at past Gems that are no longer necessary—or, at the very least, are less necessary for some people.
The good news for developers is that Snow Leopard focuses on under-the-hood changes, so it shouldn't kill off so many third-party products. Still, I've come up with a good number of Gems, listed below, whose developers may be feeling a bit nervous these days. Next to each item's name, I note whether the product's features are fully replaced by Snow Leopard's own, mostly replaced, or only partially so. Bonus: In comparing these Gems to Snow Leopard's functionality, chances are you'll learn about some of the new OS's lesser-known features.
Cameras (mostly): In Leopard and earlier, many people disliked the OS X feature that automatically opened iPhoto, Aperture, or another program whenever they connected a digital camera or media card. However, for some people the problem was that they wanted to open different apps for different devices. Cameras offers just such a feature, letting you choose which programs handle which devices, and can automatically download photos. In Snow Leopard, Apple finally offers a similar feature: launch OS X's Image Capture utility, connect a camera (or an iPhone or a memory card), and indicate which application should open the next time that device is connected. There's even an option to launch AutoImporter.app, a utility that automatically downloads the photos on the connected device to a folder called AutoImport in your Pictures folder. Cameras is still more attractive—I really like the previews as images are downloaded—but most of its functionality is now available right in the OS.
CoconutBattery (partial): There are a number of utilities out there that provide more information than Apple's stock battery-status menu, but CoconutBattery is especially useful because it shows both your battery's original and current capacity—in other words, how much juice the battery should be able to hold compared to how much it's actually able to store at this point in its life. If the current capacity is exceptionally low, it's a good sign you need a new battery. In Snow Leopard, the battery-status menu puts it in even plainer terms: Replace Now. (Thanks for the tip, @applehockey.) On the other hand, CoconutBattery still gives geeks all they info they'll ever want to know about their MacBook's battery.
HetimaClipping.qlgenerator (full): One of my little frustrations with Leopard was that the useful Quick Look feature didn't work with text clippings. This Quick Look plug-in added support for text clippings, but it's no longer necessary in Snow Leopard, which gives you Quick Look previews of text clippings right out of the box.
MagiCal , MenuCalendarClock , and probably a few others I'm forgetting (partial): These utilities let you put the date in the menu bar, a feature users have been asking for since OS X debuted. In Snow Leopard, Apple finally added just such a feature, which you can enable in Date & Time preferences. Yet you can't choose the format for this date display, and MagiCal, MenuCalendarClock, and other utilities provide many other features, such as drop-down calendars and the capability to view and create iCal events.
Network Location and MarcoPolo (partial): These road-warrior utilities use your network, peripherals, and other data to determine your physical location, and then perform specific actions depending on that location. Snow Leopard's new Core Location framework can determine your location based on your network, and the OS can automatically update your time zone accordingly. However, if you want your Mac to do stuff beyond just updating the time zone, you'll still need to lean on third-party software. In fact, the developers of Network Location, MarcoPolo, and similar utilities may opt to take advantage of Core Location to enhance their apps.
Service Scrubber (full): One of my favorite utilities for Tiger and Leopard was Service Scrubber, which let you disable particular services so the Services menu wasn't so cluttered; the utility also let you assign and edit the keyboard shortcut for each service. So I was pleased to find that Snow Leopard adds these very features. In fact, it even bests Service Scrubber by providing a much more usable interface right in the Keyboard pane of System Preferences.
Shimo (partial): In Tiger, OS X's built-in VPN client didn't work well with Cisco networks, so many of us turned to Shimo, which used Cisco's own software behind the scenes, but let you connect to your VPNs using a convenient menu-bar menu—letting you ignore the klunky, intrusive Cisco application. Leopard offered slightly better Cisco compatibility, but it still wasn't great, meaning Shimo was still a must-have for many Mac users. In Snow Leopard, Apple has dramatically improved Cisco-VPN compatibility, making both Shimo and the Cisco software itself much less necessary for some. But I'm still using Shimo enthusiastically: combined with Cisco's own software, Shimo is still much more reliable than OS X's own VPN client when connecting to some Cisco VPNs, and Shimo's additional features—auto-reconnect, Growl alerts, keyboard shortcuts, MobileMe configuration syncing, network detection, and more—continue to make it much more functional.
Sharpshooter (partial): A persistent complaint about Mac OS X's built-in screenshot feature is that screenshots have always been generically named: Picture1, Picture2, and so on. Sharpshooter is a nifty utility that pops up whenever you take a screenshot and gives you the opportunity to give that image a more descriptive name. After nearly a decade of Mac OS X, and years of the "classic" Mac OS before that, Snow Leopard finally provides slightly more useful screenshot filenames: the words Screen shot followed by the date and time (for example, Screen shot 2009-09-04 at 8.37.08 AM). Unfortunately, slightly is the key word here; this naming system doesn't tell you much about the contents of the screenshot itself, which means Sharpshooter is still quite handy. In addition, Sharpshooter gives you a preview of the screenshot before you save it and lets you choose, on the fly, the image format (PDF, JPEG, TIFF, etc.) and the location to which the image will be saved.
Snapz Pro X and ScreenFlow (partial): Users who want to record onscreen actions have long turned to utilities such as Snapz Pro X and ScreenFlow. But in Snow Leopard, QuickTime Player can make simple screen recordings—if your needs are basic, you may be able to get by with just this built-in feature. On the other hand, those who require finer control of what gets recorded, or more encoding and editing options, will stick with the much more advanced third-party tools.
SoundSource (partial): As someone with a Mac Pro that has a cable connected to nearly every audio input and output jack, for years I've used SoundSource to choose my audio-in and -out devices from a convenient systemwide menu. But in Snow Leopard, a simple Option-click on Apple's own volume menu (enabled in the Sound pane of System Preferences) gives you similar options for choosing your input and output. Still, I'm sticking with SoundSource for a couple reasons: One is the capability to choose different volumes for different sources, but my favorite is that SoundSource automatically switches audio output to and from my Mac Pro's headphone jack whenever I plug in and unplug my headphones, respectively—something the Mac Pro, unlike most Macs, won't do on its own.
TextExpander , TypeIt4Me , Typinator (partial): New to Snow Leopard is the Text Substitution feature, which can automatically replace designated text (for example, addy) with other text (say, your complete postal address). The feature can also be used to type special characters and to auto-correct frequently misspelled words. However, despite its promise, for many people this feature is unlikely to replace third-party text-replacement utilities such as TextExpander, TypeIt4Me, and Typinator: Snow Leopard's feature works only with particular software, and it's much less powerful and customizable.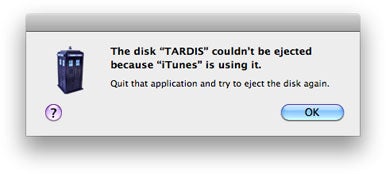 What's Keeping Me? and What's Open? (mostly): It's probably a good bet that every Mac user has at one time or another attempted to eject a disc or unmount a drive, only to be told that the item could not be ejected because it's "in use." What part of it, exactly, is in use? The OS never told you. In Mac Gems, I've recommended What's Keeping Me and What's Open, utilities that inform you exactly what file(s) on a volume are preventing it from being unmounted, but Snow Leopard brings a little relief here. First, things will prevent a volume from being ejected. But more important, if something is keeping the disk "busy," the error message will give you a little bit more info about the offending process or application. Geeks like me will still appreciate utilities such as What's Keeping Me and What's Open for the additional information they provide, but many users will be satisfied knowing that quitting iTunes will let them eject their FireWire drive.
That's a good list of less-necessary Gems, but there are numerous other improvements in Snow Leopard that overlap with Gems, including better PDF viewing (both in Preview and within Safari); Address Book syncing with Exchange, Yahoo, and Google contacts; more-informative Time Machine and AirPort menus; an improved Spotlight-results display; new Docks and Stacks features; and a better iCal-event-editing interface. QuickTime X also renders less necessary a number of programs that made it easy to upload your own videos to YouTube: Snow Leopard's version of QuickTime Player provides, via its Share dialog, a simple YouTube encode-and-upload feature. And I'm hoping that Snow Leopard's built-in Exchange support means the end of unopenable winmail.dat files in Mail, rending Letter Opener obsolete.
Did I miss any? If you've got a favorite Mac Gem that you're discovering isn't quite as necessary in Snow Leopard, let me know in the comments.
Edited 9/4/09, 10:25am: Removed NicePlayer, as its main feature was actually appropriated by QuickTime back in 2007. The author apologizes for writing on too little sleep.
Want to stay up to date with the latest Gems? Sign up for the Mac Gems newsletter for a weekly e-mail summary of Gems reviews sent directly to your Inbox.