This year continues to be tough for server vendors, which have seen dramatic declines in business due to lower investments by companies in new hardware, according to analysts IDC and Gartner.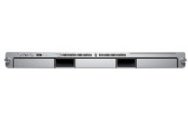 For the region covering Europe, the Middle East and Africa, server revenue for the second quarter of the year declined 35.8 percent to US$2.9 billion compared to 2008, according to figures released Friday by IDC. Fewer than 500,000 units were shipped, down 33.9 percent from a year prior.
Rack-style servers were the top revenue-generating form factor. High-end server revenue grew 5.9 percent for the second quarter versus the first quarter of the year, IDC said.
Emerging markets in Central and Eastern Europe, the Middle East and Africa saw a 37.5 percent drop in revenue and 44.3 percent fewer shipments compared to the second quarter 2008.
Figured released by Gartner earlier in the week showed that server shipments worldwide dropped 28 percent in the second quarter of the year compared to the same quarter last year. Server revenue dropped 29.4 percentage points.
IBM maintained the number one spot for server revenue worldwide, according to Gartner, but its revenue still fell 27.1 percent to around $3 billion. Hewlett-Packard held second place, with $2.8 billion in revenue but down 30.1 percent from the second quarter of 2008. Dell, in third, came in with $1.3 billion in revenue, down 20.3 percent.
Hewlett-Packard shipped the most servers but saw decreases all across its brands, according to Gartner. Still, HP managed to edge out its major rivals in quantity with a diverse product line, good market coverage and strong sales program, Gartner said.
Gartner expects slightly better results for the third quarter as economic conditions improve, but companies will likely be conservative in their purchases through the rest of the year. Growth will not return to the server market until next year, Gartner said.