Gameloft has announced the release of Modern Combat: Sandstorm, a new first person shooter game for the iPhone and iPod touch. It's available for $7 from the App Store.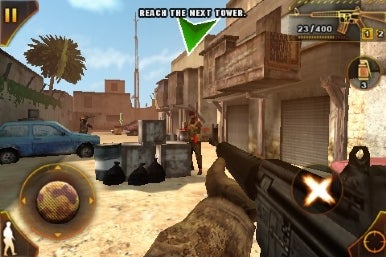 You're a soldier assigned to Mission Sandstorm, and it's your responsibility to locate and neutralize a new terrorist cell that's mobilizing and recruiting insurgents in a remote desert location.
The game features 10 missions in various locations ranging from city streets to a hospital, sewers, training camp, and more. You will be equipped with authentic weapons like assault rifles and a sniper rifle, RPG, shotgun, submachine gun, and more. The game features a level system that lets you progressively unlock weapons and use munitions you find on the bodies of your enemy. Modern Combat: Sandstorm also sports three different control systems, including tap control and "Virtual Sticks."
System requirements call for an iPhone or iPod touch running iPhone OS 2.2.1 or later.