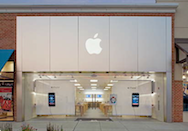 We all know how important the Apple Store's décor is to the shopping experience: the glass windows, the well-lit aisles, the wood tables with the MacBooks, iPods, and iPhones carefully laid out. But customers aren't the only ones to appreciate the design aesthetic of Apple's retail outlets: turns out the design has a lot to like for would-be thieves, too.
For the second time in the last six months, the Apple Store, Sagemore in Marlton, New Jersey has found itself the target of burglars. They struck around 2AM on September 2, methodically working their way through the merchandise on display and making off with 23 MacBooks as well as 14 iPhones and iPod touches—all in just 31 seconds. We know the Apple Store has always prided itself on the efficiency of its checkout procedure, but it just goes to show you how much faster things go when you don't have to trouble with niggling details like payment.
The cunning plan for the theft involved the five thieves throwing a brick through the front window of the store—an idea culled no doubt from the unfortunately named Brick Rd. adjoining the shopping complex. They then told the on-duty security guard they had a gun, and then swept up and down the aisles, scrolling like butter. You can watch footage from the security cameras in the local news embedded below, if you don't mind the local reporter who sounds like he works nights as a sports announcer.
Earlier this year, on March 10, burglars took eight laptops and eight iPhones, worth $16,000, from the Sagemore store, hence the reason that a security guard was present during this latest incident.
We smell another marketing slogan for Apple: "The world's fastest notebook computers—to go."
Read more…