ImagePro by IOCo is a simple app designed to do just one thing—provide a quick and easy way to search Google Images on your iPhone or iPod touch. Of course, you could just use the iPhone's built-in Safari browser for this, but ImagePro's clean interface and great features make the task a lot easier.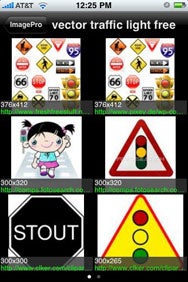 To start, you type in a search term and ImagePro quickly displays six related images. To see the next six images, you just swipe to the left and scroll through the pages until you find what you're looking for. The size and URL of each image is displayed directly below it. Tapping on an image will allow you to see the full-size, zoomable version in both portrait and landscape mode. From there you can post a link to it on Twitter, e-mail it to a friend, or save the image to your photo album.
ImagePro also gives you the option to visit the image's Web page from within the application. This is the only area of ImagePro's otherwise polished interface that I found lacking. When you go to Web site using the app's built-in browser, the web page isn't sized to fit the screen and you have to pan around to see everything. Even worse, there's no ability to zoom in or out.
ImagePro has several search filters like content, size, color, and file type to help you find exactly what you're looking for. The app makes searching Google Images a breeze and is an excellent way to find wallpapers for your iPhone or iPod touch.
ImagePro is compatible with any iPhone or iPod touch running the iPhone 2.2.1 software update.
[Tim Mercer is a technology enthusiast, graphic designer, and blogger, whose blog, digital-artist-toolbox.com, offers free resources to the digital artist and graphic designer.]