Vacation time is over, school is starting, the weather is changing, and you're eyeballing those hundreds of photos you took over the summer, wondering what to do with them. Flickr, Facebook, and Picasa are great for sharing your galleries, but you don't have to stop there. Give your summer photos a second life with these easy and offbeat projects. You can turn trips to New York City into music videos, aquarium visits into wall art, road trips into scrapbooks, and family gatherings into collaborative online galleries.
Create a digital scrapbook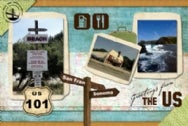 With digital scrapbooks, you get to skip the messy glue and painful paper cuts. Scrapblog has all the tools you need to create an appealing digital scrapbook from your vacation photos. With their intuitive online builder tool you can upload photos and videos from your computer, or import them directly from Photobucket, Flickr, Webshots, Facebook, and Picasa. Choose from pre-made and entirely editable scrapbook templates, or start fresh and create your own pages from scratch.
Scrapblog gives you a library of design elements to use when assembling each page. (It's free to sign up and make a Scrapblog, but many of the design elements do cost money to use.) There are background textures, stickers (clip art), text boxes and balloons, shapes, and image frames. Pick your favorites, lay them out, add words, then place your photos and videos. Scrapblog has image editing tools built-in so you can make a number of tweaks to your pictures on the fly, including cropping and color effects.
When you have completed scrapbook pages, you can export them as jpgs to email or share online, or you can pay to have them printed up as hard or soft-cover books, cards, and calendars. Try doing that with your old handmade scrapbooks.
Host a photo reunion
Summer vacations, camps, and weddings bring people together from all corners of the country—and many of them coming toting cameras. The only problem is that most people take their cameras home with them and forget the share the photos within (you know who you are). To reconnect once you've settled back into your daily routine, set up a group photo site. If you're a MobileMe member, you can create an online slideshow and let anyone upload photos to it.
Start by placing the photos you want to share into a new album. Select Share-> MobileMe Gallery (or just click on the MobileMe button at the bottom of the window). In the dialog box that appears, you can choose who has the authorization the view the gallery (just you or the entire universe) and whether visitors can download files to their own computers. You can even let others add photos to your gallery. This is a great option if you're hosting an event—such as a wedding or holiday gathering—where lots of people will be taking photos. In the MobileMe dialog box, turn on the options for uploading photos via e-mail and for showing the e-mail address people can use to upload photos.
Click on Publish and iPhoto will build your Web gallery and post it online. When it's done, a black bar will appear at the top of the window and display the URL for your gallery and the e-mail address other can use to share their own photos. The result: a collaborative gallery containing shots you may have missed. If you set up the gallery in advance of an event, you can even include the upload e-mail address in printed or electronic invitations.
Turn photos into magnets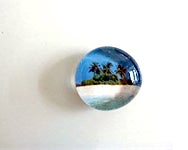 Let your favorite summer photos help tame clutter instead of becoming part of it. Turn your images into magnets that you can use in your school locker, cubicle cabinet, or on the fridge. Since magnets are small, they're a good project for your smaller photos that aren't high resolution enough for other projects, but too good not to share.
Zazzle takes your digital photos and turns them into round or square full-color magnets that are topped off with a tough Mylar coating. To create your custom magnets, sign up with Zazzle (free) and use their simple online design tool. You can place and crop images, change the background color, and even add text. There's no commitment to buy after designing and you can save a draft and come back to it. Each magnet is $2.85-$3.50, but if you're considering giving magnets away as gifts, Zazzle gives discounts on orders of 10 or more.
If you're feeling extra crafty, you can actually make your own very cool marble magnets. Just follow these step-by-step instructions from Not Martha. It involves glue and a trip to the craft store.
Blow-up your best shots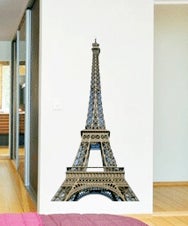 Viewing vacation photos on a computer screen or in a printed album can feel a little, well, small. Relive your memories in a big way by getting the next best thing to a holodeck—huge vinyl printouts of your photos that stick to your walls. Dotphoto creates vinyl prints of your photographs in three different sizes: 12-by-24, 24-by-36, and 48-by-24 inches. The best part about these prints is that you're not limited to boring old rectangles—Dotphoto cuts out whatever part of the photo you want.
Was the highlight of your summer a trip to the aquarium? Turn one of your rooms into an underwater seascape with a cutouts of your favorite aquatic creatures and a large watery background. Since the final print is so large, you'll need to start with high resolution images of your subjects (sorry iPhone photographers). The minimum recommended resolution for Dotphoto's smallest vinyl print is 800-by-1600 pixels. The larger the image the better.
You can upload photos to Dotphoto from Picasa, via FTP (great for the extra large files), from your hard drive, or directly from iPhoto. After you've picked your photo and indicated the print size and quantity, you must give Dotphoto very specific instructions on how you'd like it cropped. If you do not say what element you want cut out, Dotphoto will give it their best guess and choose the most prominent person or object in the image. If you want the entire image printed, you must write "Print entire image – NO cutout."
Your vinyl cutouts will be delivered in about two weeks. Prints are priced from $34 to $77, depending on the size. Each cutout has Peel-n-Post adhesive on the back, so you can stick, remove, and re-stick your prints easily and without without damaging your walls.
Make musical slideshows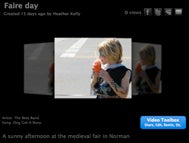 Slideshows are an efficient way to show off your adventures, but sometimes they can be a little dull. Keep your audience riveted by turning a slideshow into a rousing music video worthy of your photographs. Animoto uses innovative cuts and pans to create one-of-a-kind videos where photos (and even 10-second video clips) bop along to the song of your choice.
To start your slideshow, upload your images or import them directly from Facebook, Flickr, Smugmug, or Picasa. Next, pick a song from their free catalog or upload an MP3 from your library. Animoto will randomly choose from your selection of images, shuffle them around, and use their unique generator tool to splice them together into a professional quality short video. The cuts between images are timed to go with your music, creating a captivating version of your trip to New York City or the kids' first trip to the ocean.
You can make a 30-second video for free or pay $3 for longer videos. Once you're hooked, become an Animoto member for $30 a year and create unlimited amounts of movie magic. If you're an iPhone photographer, Animoto has a handy app that will create, remix, edit, and share the same fun videos using the images in your iPhone library.