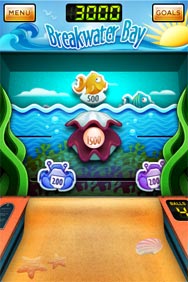 If you don't start to smell the popcorn after a few minutes playing Ramp Champ, the new Skee ball-inspired game from The Iconfactory and DS Media Labs, you're doing it wrong. From its delightfully dilapidated launch screen all the way to the rich background soundtrack, Ramp Champ immerses you in an old-time carnival midway.
Ramp Champ's gameplay couldn't be more simple: you flick your finger to toss a ball up a ramp and up onto a game board, all in an attempt to hit objects labeled with various point values. Clear the right objects and more objects appear, leading to even bigger point totals. You have nine balls to toss; when you're done, you receive tickets (yes, the old tear-off red kind) based on your performance. You can use tickets to buy virtual prizes at the carnival gift shop, and stock your virtual trophy wall.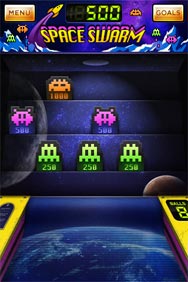 The game comes with four built-in levels, each with an array of sound effects and lovingly depicted objects. Each level comes with a series of challenges of escalating difficulty, and you receive a trophy for each challenge you complete. For example, I got a trophy once I cleared all four seahorses out of Breakwater Bay and then hit the opened clamshell twice, dislodging a black pearl.
Four additional levels are available as add-ons via in-app purchase. For 99 cents, you can buy a two-pack containing two new levels. The add-on levels are just as attractive as the four included with the core game.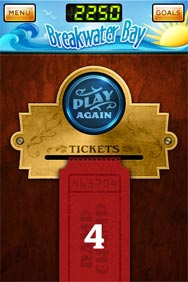 Though the gameplay is simple, make no mistake: Ramp Champ is challenging. Flicking your finger with just the right velocity and angle to make that little ball go where you want is extremely hard. Many of the challenges require exactly the right flick at the right time, or you'll have to start all over again. And there's strategy, too, since you'll want your ball to clank off of more than one object at a time for maximum points.
In fact—and I can't believe I'm saying this—Ramp Champ is one of the more challenging iPhone games I have ever played. Sometimes I think it might be better if it were a tad easier, but if it were too easy I would eventually get tired of it. Instead, the challenge keeps bringing me back. And yet it's so simple—and the graphics and sounds so rich—that even my kids can play it.
So step right up, folks, and smell the carnival popcorn. Ramp Champ is just about as much fun as you can have without getting caramel apples and cotton candy all over your hands.
Ramp Champ is compatible with any iPhone or iPod touch running the iPhone 3.0 software update.
[Jason Snell is Macworld's editorial director.]