As designers, we pretty much accept Adobe's Big Four apps as our tools of choice in creating brochures, flyers, ads, and Web sites. But Adobe has offered another tool for quite some time that should take its rightful spot next to Photoshop ( ), InDesign ( ), Illustrator ( ), and Flash ( ) in our design toolbox. It's called Kuler (pronounced "cooler" according to Adobe), and its name is certainly appropriate.
Kuler is a Web-based application that allows users to browse, create, and share color themes through the Kuler Web site, the Kuler desktop application (direct download link; requires Adobe AIR), or a Kuler widget for Mac OS X's Dashboard (available for download from the Links page on the Kuler site). Of course, Kuler is also available inside your favorite Adobe CS4 desktop applications including: Photoshop, InDesign, Illustrator, Flash, and Fireworks. Kuler is available online for free, and you don't have to be a CS4 user to take advantage of it.
The use of color is generally one of the most important aspects of any design. But not all designers are blessed with the ability to create color combinations that work well together. Most of us know a great color-combo when we see one, but couldn't create one if our lives depended on it. This is where Kuler can help.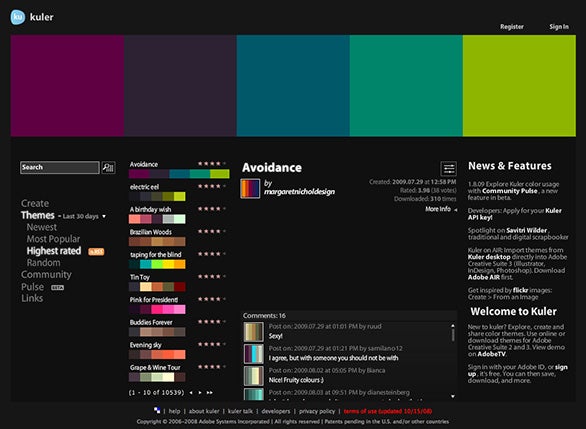 Designers can browse thousands of color themes created by the Kuler community; including the ability to search for color themes by tags, themes, hex color, and more. So searching for spring will likely bring up a list of bright and cheery color combos appropriate for that flower landscaping brochure you're working on.
But it doesn't stop there. Users can also create new themes based on colors in an existing image you upload from your desktop. Once you've found a color scheme you like, you can rate it, add it to your favorites, export it as an Adobe Swatch Exchange file for use in any Adobe Creative Suite app, or add it directly to your CS4 app Swatches panel. You do so with a simple drop-down menu in the Kuler panel next to the swatch name.
Along with complementary colors, you can also have Kuler create a set of shades of the base color, analogous, monochromatic, or compound colors. Adjusting the colors using the color wheel and brightness slider updates the color theme instantly, so there's no guessing as to what you'll end up with. At any time in the creation process you can add or remove a color swatch, or add any of the colors to your CS application Swatches panel.
By far the most popular way to use Kuler is through the Creative Suite applications you use all day. The Kuler panel (accessed via Window ->Extensions ->Kuler in your CS4 apps) offers you the ability to create a single color, then build a list of complementary colors based on it. This is the perfect tool when you're working on a design where the only color you have is in a logo and you're coming up short when trying to think of a great set of complementary colors to use on a Web page or brochure.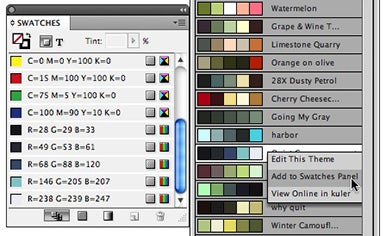 Because Kuler is a community-based Web site, you can save the color themes you build and upload them for others in the community to rate, comment on, and download to their computer for use in their designs. If you're not confident in your own color theme creation, you can simply browse what others have uploaded. If you happen to find someone who has a knack for creating great color themes, you can add them to your favorite list.
There are plenty of other color theme viewing and creation sites out there; ColorCombos, ColorBlender, and the thriving ColourLovers community have all been around for quite a long time. However, given that Kuler is so tightly-integrated into the Adobe Creative Suite applications, and has the financial and technical backing of Adobe, Kuler has grown quickly in popularity.
Though Kuler is definitely meant for professional designers, those who simply wish to add a little creative use of color to their holiday newsletter can benefit from everything the Kuler Web site has to offer.
[James Dempsey runs The Graphic Mac, which offers tips, tricks and more on all the Adobe Creative Suite apps.]