However civil you are to your neighbors, co-workers, friends, and loved ones, there's probably a part of you that wants to lead a mighty war machine into battle, level up, collect upgrades and emerge triumphant despite impossible odds. That doesn't necessarily mean you're not a nice person, someone who regularly brings good homemade chili to meetings and parties.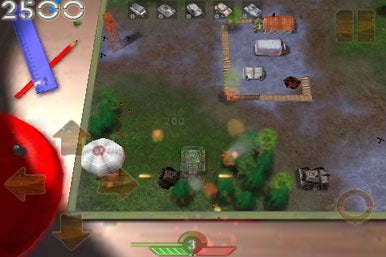 To indulge your would-be warrior, try Tank-O-Box, a real-time military strategy game for the iPhone and iPod touch developed by Exclusive Games and offered via Alaware Entertainment. You control a tank in battles that take place over the course of 55 levels and 30 types of terrain on an imaginary writing desk. Within each level, you must defeat opposing tanks, guard your headquarters, take out the enemy's radar or pillboxes—or all of the above.
Holding on to arcade-style roots, the game provides every opportunity to turn your little-tank-that-could into an all-impressive war machine capable of destroying everything in its path. As the level progresses, you can grab upgrades and extra lives to give your unit extra armor, missiles, additional cannons, and lasers.
Well-rendered graphics meet top-notch sound and a military backbeat that's generally impressive. Simply tap the left side of the touchscreen (on the designated arrows) to control the tank, tap the circle on the right side of the touchscreen to fire, and you're in business.
Despite its simplicity, Tank-O-Box proves to be surprisingly fun. The game's strategic elements hold true, and you'll find yourself heading toward the best terrain within a level to wage battle, using fences, buildings, and other structures as cover. Other bells and whistles—including a helpful tutorial, an auto-save feature and responsive controls—make the Tank-O-Box that much better and more addictive than you'd expect.
Unfortunately, that praise comes with several caveats. The directional controls feel as if they've been placed too close together on the left side of the touchscreen, and while the game offers a helpful "click" noise once you hit a key and change directions, movement hardly feels natural and intuitive. Finally, Tank-O-Box's frame rate takes a nosedive when multiple units are on screen. A recent update improved matters somewhat, though things still aren't as smooth as they should be—it really detracts from the gameplay.
Tank-O-Box offers a fun way to kill 10 or 15 minutes on your iPhone and may be worth your $2 on the App Store. But the frame-rate issue makes it hard for me to love the game.
Tank-O-Box is compatible with any iPhone or iPod touch running the iPhone 2.2.1 software update.
[Chris Barylick is a frequent contributor to Macworld.]